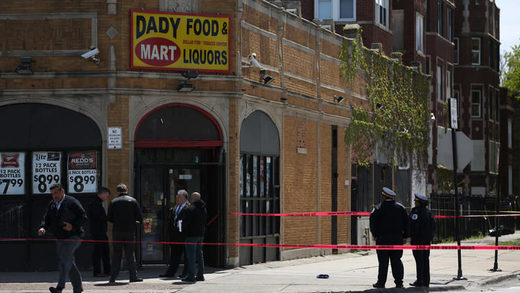 The number of people shot in Chicago this year is nearing 1,000 after a violent weekend left seven dead and 31 others wounded, according to data kept by the Tribune.
As of Monday morning, at least 992 people had been shot in Chicago this year.
Last year, the city passed the 1,000 mark on April 20 and had reached 1,054 by this time
, the Tribune data show.
The pace of homicides is virtually the same as last year. There have been at least 179 homicides so far this year compared with 180 this time last year, according to the data.
The weekend violence included
a span of seven hours Sunday
when four men were fatally shot and six other people were wounded across the city. Two of those killed were shot within 15 minutes on the city's South and West sides.
About 7:15 p.m., a 19-year-old man was shot in the chest while in a car in the 800 block of North Sacramento Boulevard in the West Side's Humboldt Park neighborhood. The driver of the car took him to Presence Saints Mary and Elizabeth Hospital, where he was pronounced dead.
About 15 minutes earlier on the South Side, a 22-year-old man was shot in the head and hip while getting out of a car in the 200 block of West 61st Place in the Englewood neighborhood, police said. He was taken to Stroger Hospital, where he died.
Among those wounded over the weekend was
a 51-year-old food delivery driver
. He was shot in the upper back and shoulder while on a call Saturday night in the 800 block of North Waller Avenue in the West Side's South Austin neighborhood. He was stabilized at Stroger Hospital.