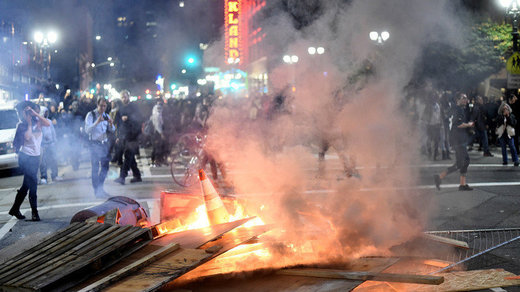 Thousands across major US cities have been protesting the election of Donald Trump as the 45th US president. Demonstrators reportedly burned flags and smashed store windows. Dozens of arrests have been made following the rallies.
Hundreds of protesters chanting "No Trump. No KKK. No fascist USA" have gathered in and around Monroe Park in Richmond, local media reported.
In Los Angeles:
On the West Coast, demonstrators in Los Angeles assembled at the 110 and 101 highway interchange, blocking traffic. Many shouted
"Hands up, don't shoot!"
at police.
Images posted online showed a mock-up of Trump's head being burned, along with a Trump campaign sign.
Police in riot gear were deployed and 13 protesters were arrested, according to local media. An earlier rally and march in the city was attended by more than 5,000 people, many of them high school and college students.
Further north in California, more than 6,000 protesters took to the streets of Oakland, burning trash in the middle of an intersection, setting off fireworks, and smashing store windows. They also threw objects at riot police. Two officers were injured and two squad cars were damaged, Oakland police spokesperson Johnna Watson told CNN.
In response, officers threw chemical irritants at the protesters, a witness told Reuters.
In New York:
In Trump's home city of New York, thousands of demonstrators marched from Union Square to the president-elect's residence at Trump Tower on Fifth Avenue, blocking streets and prompting police to erect barricades.
Other protesters gathered at Trump International Hotel and a Manhattan park, shouting
"Not my president!"
and
"Hey, hey, ho, ho Donald Trump has got to go!"
Many held signs reading
"Trump Makes America Hate"
and
"Impeach Trump."
Some climbed vehicles and light poles.
At least 65 people were arrested in Manhattan, according to NBC New York.
Around 1,800 protesters came out in Chicago, gathering outside the Trump International Hotel and Tower. They chanted phrases including
"No Trump! No KKK! No racist USA!"
Police closed roads in the area, restricting the demonstrators' path.
Texas:
Nebraska:
Missouri:
Virginia:
Hundreds of protesters chanting
"No Trump. No KKK. No fascist USA"
have gathered in and around Monroe Park in Richmond, local media reported.
Minnesota:
San Fransisco:
Hundreds have been marching along Market Avenue in San Francisco, joining in a vigil in the Castro District, a predominantly gay neighborhood, in response to Trump's presidential victory, AP reports.
Around 700 protesters have gathered in Philadelphia's City Hall, causing traffic delays, police said, as cited by CBS. Some activists burned the American flag. According to CBS, the protesters were mostly supporters of Bernie Sanders.
At least two police officers have been injured in Oakland and two police cars were damaged, CNN reported, citing the local police department.
Some 13 people have been arrested in downtown Los Angeles following protests, CBS reported, citing the LAPD.
Portland, Oregon
: