Police have abandoned an attempt to dislodge anti-government protesters from their strongholds in the Ukrainian capital, Kiev.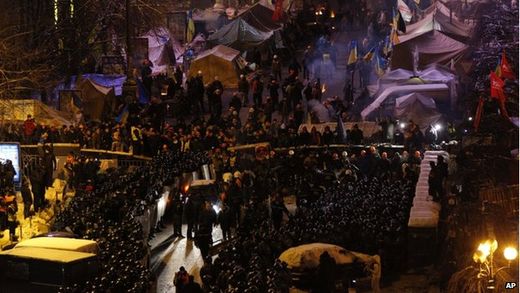 Clashes erupted at the occupied city hall hours after riot police tried to clear nearby Independence Square - prompting the US to express "disgust".
The president said
force would not be used against peaceful protesters
.
The demonstrations were sparked by the government's refusal to sign a deal on closer ties with the European Union.
The U-turn followed pressure from Russia, which has said Ukraine's free trade deal with the EU would flood the Russian market.
Prime Minister Mykola Azarov on Wednesday said Ukraine wanted 20bn euros ($28bn; £17bn) in aid from the EU in return for signing the agreement.
Authorities 'panicking'
President Viktor Yanukovych again invited all parties, including the opposition, for talks on resolving the political crisis.
"For the sake of achieving compromise I am calling on the opposition not to reject [talks], not to follow the path of confrontation and ultimatums," the president said in a statement published on his website.
He added that the authorities would "
never use force against peaceful protests
".
It comes hours after police withdrew from city hall following an abortive attempt to oust occupying protesters.
Protesters used hoses to fire icy water at the police, said reports, with events carried live on local television.
Police then pulled back from the main camp in Independence Square, which they moved on in the early hours of Wednesday.
Interior Minister Vitali Zakharchenko called for calm, saying there would be "no storming of the square. No-one will violate your rights to protest peacefully, but do not ignore the rights... of other citizens."
Overnight, riot police and interior ministry officers had dismantled some barriers and tents, with police saying they were trying to free up a passage through the square for traffic.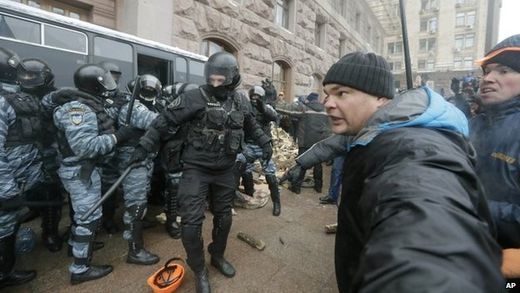 Protesters in hard hats locked arms to form human walls to try to resist the police push. At least
nine people were detained
.
There were some reports of police using violence - with the KyivPost saying it had
witnessed police clubbing protesters
.
There were calls for restraint from priests, intoning prayers, and pop singer Ruslana - urging "Do not hurt us!" - on a stage in the square. More people flooded into the square in response to pleas for solidarity, eventually forcing the police into their retreat.
Opposition leader Arseniy Yatsenyuk said President Yanukovych "has spat in the face of America, EU countries and 46 millions of Ukrainians and we will not forgive that".
He demanded the president's resignation.
US Secretary of State John Kerry condemned the authorities' move on the protests.
"The United States expresses its disgust with the decision of Ukrainian authorities to meet the peaceful protest in Kiev's Maidan Square with
riot police, bulldozers, and batons
, rather than with respect for democratic rights and human dignity," he said.
"This response is neither acceptable nor does it befit a democracy."
EU foreign policy chief Catherine Ashton is in Kiev, and held talks with President Yanukovych on Tuesday.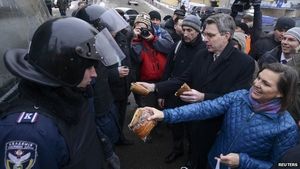 Baroness Ashton, who was cheered by crowds when she visited Kiev's main protest site on Tuesday, later said she was "deeply concerned" that police had used force to try to remove protesters.
US Assistant Secretary of State Victoria Nuland is also in Kiev, and held talks with President Yanukovych on Wednesday, at which she said she had told him that the crackdown on protesters was "absolutely impermissible in a democratic state".
Ms Nuland visited Independence Square on Wednesday morning, handing out bread, biscuits and buns, and talking to protesters.
President Yanukovych said on Monday that government officials could visit Brussels this week to resume talks on the EU association agreement.
His statement came after hundreds of thousands of protesters turned out in Kiev on Sunday, demanding the resignation of the government within 48 hours.
Government buildings were blockaded with cars, barricades and tents.