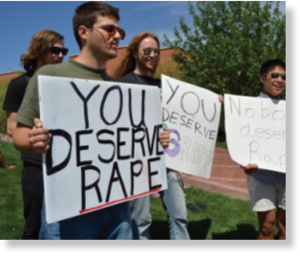 Dean Saxton, a junior at the University of Arizona, protested a campus sexual assault awareness event on Tuesday with a sign that read, "You deserve rape."
"If you dress like a whore, act like a whore, you're probably going to get raped," Saxton
told
the
Arizona Daily Wildcat
. "I think that girls that dress and act like it, they should realize that they do have partial responsibility, because I believe that they're pretty much asking for it."
Saxton, who is majoring in religious studies, often preaches on campus under the name "Brother Dean Samuel."
The event Saxton opposed was "
Take Back the Night
," a march by students to protest sexual violence against women.
Some students complained to university authorities about Saxton; however, school officials refused to stop him.
"We find [Saxton's sign] to be vulgar and vile," said Kendal Washington White, interim dean of students. "However, it is protected speech. He has yet to, at this point, violate the student code of conduct."
"[Saxton] is part of a larger societal culture that tolerates rape, and that's exactly what the Oasis Program Against Sexual Assault and Relationship Violence is here to counteract," said Megan McKendry of Campus Health Services. "His message is an awful one that we condemn. No one deserves to be raped."