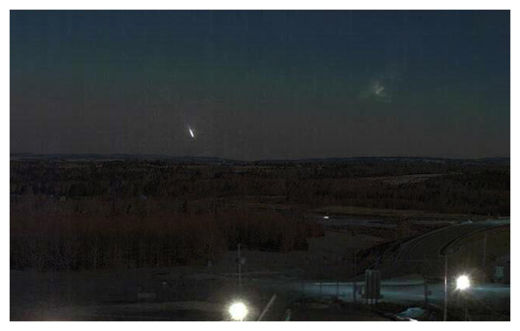 A bright meteor 'fireball' flashed across the sky over Eastern Canada today, lighting up the pre-dawn sky and possibly even causing a sonic boom as it burned through the atmosphere.
Witnesses from Nova Scotia, New Brunswick, Prince Edward Island and even Quebec's Gaspé Peninsula reported seeing a bright light in the sky early this morning. From all accounts, along with the northwest-facing image captured by the Masstown, N.S. webcam, it would seem that this particular fireball was travelling from south to north.
"On my way home from a fire call in Chateau Heights around 5 a.m. this morning, I witnessed what I thought was an airplane falling from the sky," Captain Dan Roy of the Keswick Valley Fire Department, just northwest of Fredericton, N.B., told
CBC News
. "There were flames and sparks and then it just disappeared. Not like any [meteor] I've ever seen before."