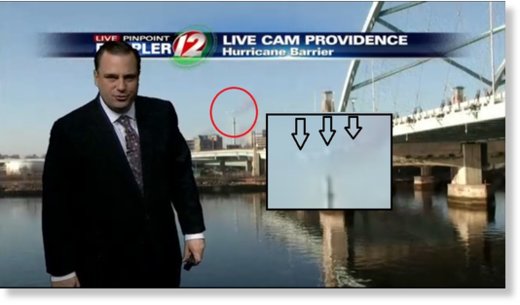 It was more a matter of luck than anything else, but it was an amazing 1-2 seconds caught live on television Sunday morning at about 8:17 a.m. A fireball raced across the deep blue sky over Providence, and I watched it as it happened. Look just above the smoke stack about 3 seconds into the video.
To see the fireball, enlarge the video to fill your screen.
Our Hurricane Barrier Cam was pointed to the west. For perspective, the I-Way Bridge is on the right, Rhode Island and Hasbro Children's Hospitals are in the center of the screen. I circled the streak of light in red below. You can see it behind the exhaust from the smoke stack. In the inset, you can see the pieces of the burning debris that fell off of the object.