Fireballs
Sheilaaliens
YouTube
Fri, 15 Nov 2013 22:18 UTC
Another fireball traversing the sky, this time over Japan.
Source
---
Tura - A meteorite falling in the areas bordering Bangladesh created panic among the residents of the Garo Hills region. The meteorite, which fell inside Bangladesh, lit up the night sky around 10.30 pm last night. It was eagerly watched by the residents living along these areas.

The meteorite fell close to the Dumnikura BoP in the Sherpur district of Bangladesh, just beside the international border and the impact was heard even 40 km away from the area where it fell. Dumnikura is a border outpost in the South Garo Hills, very close to where five police personnel were killed last week.

A resident of the neighbouring Dalu village in West Garo Hills, Dipu Marak, was witness to the incident.

He said, "We heard a loud noise around 10.30 pm last night and immediately rushed outside. We were in a state of shock. The meteorite lit up the night sky and narrowly missed us."

Other local residents said the whole area shook under the impact of the fall and the light could be seen even on the Indian side of the border.

Panic-stricken people, who ran out of their houses, said that the sound resembled that of an aeroplane's at a close range.
---
I've been shooting photos for 20 years. I've made my living in the profession for the last 15. I can count on one hand the number of times that everything lined up perfectly and a truly rare image was created. Now, I don't want to toot my own horn about this shot, but the fact that, during a 30 second exposure, after a 10 second timer (during which I hopped down from the roof of my truck where the camera was on a tripod, and joined the scene by the fire), a
meteor
(or so they tell us) would enter the sky EXACTLY in the corner of the frame and explode in the very part of the frame that needed balance, just as I had finally worked out the correct exposure and lighting to match the foreground with the night sky, is beyond rare. It's a non-chance. There is no way to plan for something like this. No way to even hope for it.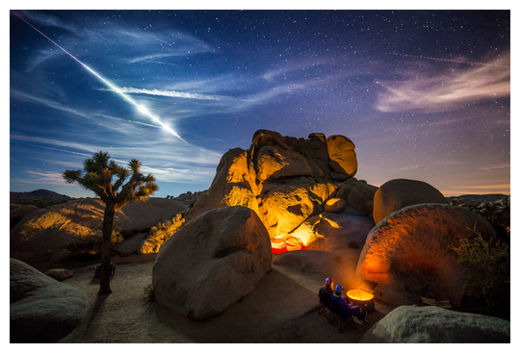 But lest you get the impression that I'm subscribing to a lifestyle of reliance on freakish luck, there is a deeper game at play here. Namely this: If you shoot enough arrows, eventually you'll pull a Robin Hood and split the arrow that was already a bulls-eye. When I took this shot, it was the final day of my project shooting fall landscapes in the American West. Five weeks previous, I had left Seattle in my truck with no mission beyond creating and sharing beautiful photography as I chased good weather almost all the way to the Mexican border. Every morning, I was up shooting the sunrise.
---
Kennedy Ryan
KTLA 5
Wed, 06 Nov 2013 00:01 UTC
Numerous sightings of bright lights in the skies across Southern California may be the result of the South Taurids meteor showers.
These meteors are generally the most visible in the first half of November.
You can expect to see two to 10 meteors an hour, regardless of your location, according to the
American Meteor Society
.
Southern Taurid meteors are considered to be rather slow, but they make up for it by being exceptionally bright.
---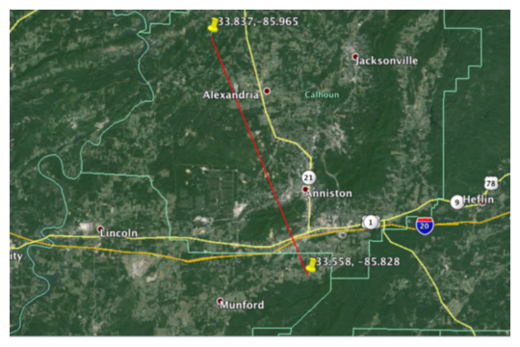 Huntsville - NASA says the fireball that streaked across Alabama Sunday night was a piece of a comet about as wide as a can of soda. The comet was caught on four of NASA's sky watch cameras about 7:22 p.m. CT.
"It was picked up at an altitude of 55 miles moving east of south at 51,000 miles per hour," Dr. Bill Cooke, director of NASA's Meteoroid Environments Office at Marshall Space Flight Center in Huntsville, said today in an email. "It burned up at an altitude of 27 miles just south of Anniston."
Based on the "light curve" created by the fragment's passing, Cooke said it was "about 2.5 inches across and weighed about 5 ounces. It was six times brighter than Venus at its peak."
---
KGO TV
Fri, 08 Nov 2013 19:26 UTC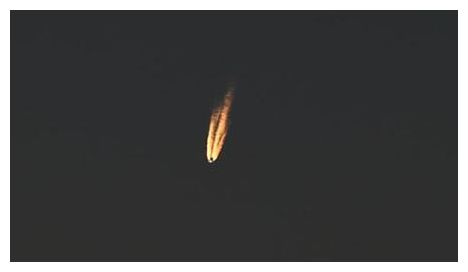 Los Angeles -- A bright meteor lit up the Bay Area sky on Friday night.
Bay Area News Group photographer Ray Chavez snapped pictures of it from San Lorenzo and then
tweeted
them.
This is the third night in a row that large meteors have been spotted. Right now we are in the midst of the South Taurids meteor shower. It peaked last month, but can still produce stunning shooting stars.
---
News 9
Fri, 08 Nov 2013 13:44 UTC
Residents on the southwest side of Oklahoma City are trying to figure out what made a loud, roaring noise early Friday morning that interrupted their sleep for hours.


From about midnight to 2 a.m., News 9 received dozens of emails, phone calls and Facebook posts about the noise. People said it rattled windows and shook their homes.
---
Two surprisingly large Near-Earth Asteroids have been discovered in just the last week or so, as well as a third moderately large asteroid which surprisingly has also gone undetected until now, even though it can pass close enough to the Earth to be classified as "potentially hazardous".
Not since 1983 has any near-Earth asteroid been found as large as the approximately 20-kilometer (12-mile) size of the two new large ones. In fact, there are only three other known near-Earth asteroids that are of comparable size or larger than the two new large ones.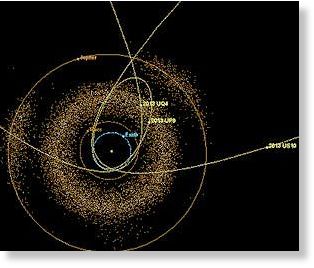 It is important to note that none of these three new large near-Earth asteroids can come close enough to the Earth to represent a near-term threat to our planet.
The first of the new large near-Earth asteroid discoveries is named 2013 UQ4, and it is perhaps the most unusual. This approximately 19-kilometer (12-mile) wide object was spotted by the Catalina Sky Survey on Oct. 23 when the asteroid was 435 million kilometers (270 million miles) away from Earth. Not only is this object unusually large, it follows a very unusual highly inclined, retrograde orbit about the Sun, which means it travels around the Sun in the opposite direction of all the planets and the vast majority of asteroids.
---
Californians from Fresno to San Diego reported seeing a crazy-looking fireball streak across the sky this evening around 8 p.m. There were a lot of fake photos being passed around, but CBS Los Angeles found some security footage that captured the fireball:
So what's going on here? It's likely a part of a meteor shower going on that has a reputation for putting on quite a show around Halloween every year. Every year in late October and early November, the earth passes through the dust of a comet named
Comet Encke
. One astronomy website
described the shower this way
: "Although a modest shower, the Taurids can surprise you with a flamboyant fireball or two!" A meteorologist with the National Weather Service
told the San Gabriel Valley Tribune
that's likely what us Southern Californians saw tonight.
Comment:
Regardless of whether it was a stray meteor from the Taurids meteor shower or not, something is afoot out there. Fireball sightings are becoming the norm instead of the odd occurrence all around the BBM.
Comets and The Horns of Moses
---
At its most intense, meteor fireball glowed 30 times brighter than the sun causing skin and retinal burns, say researchers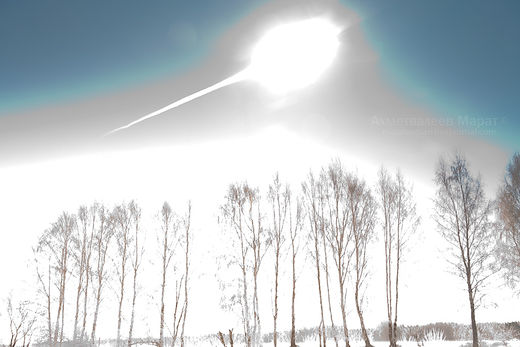 Scientists have published the most complete picture yet of the devastation caused by the meteor that exploded over the city of Chelyabinsk in Russia this year.
The
20-metre-wide space rock hurtled into the skies over the city in February
and began to tear apart at an altitude of 28 miles. Travelling at a speed of 12 miles per second, the rock exploded with the energy of around 500 kilotonnes of TNT, researchers found.
Directly beneath the meteor's path, the shockwave was powerful enough to
knock people off their feet
. Windows were shattered in more than 3,600 apartment blocks, and a factory roof collapsed.
In the local library in Yemanzhelinsk, 30 miles away, a statue of Pushkin cracked when it was struck by a blown-out window frame. At least 1,210 people were treated for injuries, most from falling building debris and flying glass.
---