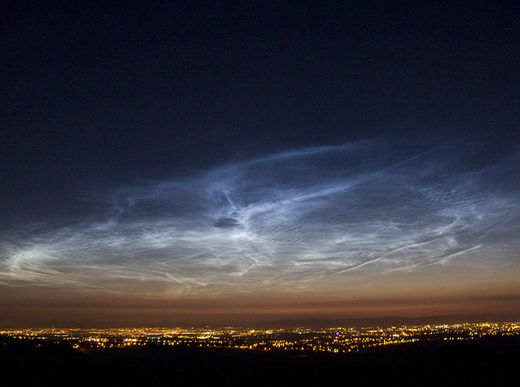 NASA
reports
that rare, electric blue noctilucent clouds have reappeared over the South Pole, where the clouds are often spotted for five to ten days every year. NASA calls the clouds "a great geophysical light bulb" that are visible during the darkest nights.
The clouds were spotted by NASA's AIM spacecraft, which observed a "vast bank" of the clouds that began on November 20 and has expanded to blanket the entire continent, creating a rippling mass of particles that represent the highest clouds formed on earth. The clouds "glow" because of their altitude - they reflect light cast from a horizon we can't see from the ground. But what causes these clouds to form so high above the surface of the earth?
Last year, atmospheric scientists from Hampton University
published a study
revealing the discovery of "meteor smoke" in the clouds.
When meteors get pulverized in the atmosphere, they leave behind a trail of tiny bits floating in the upper reaches of the atmosphere. It turns out that these microscopic "meteor clouds" provide the building blocks for noctilucent clouds - water molecules gather on the specs of dust, creating ice crystals.