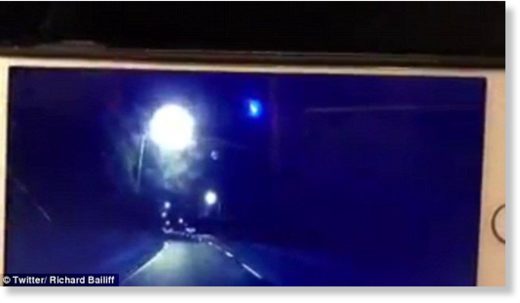 A mysterious flash of light which lit up Western Australia's dark skies has sparked a fiery debate online about the cause of the illuminating object.
Hundreds of people took to social media to share footage of the flash, which was seen from Mindarie in Perth's north to Meckering in the city's east.
Some witnesses claimed the flash of light was likely a meteorite, although others believed the blue burst looked more like falling debris.
The Perth Observatory had multiple reports of a meteor.
Ralph Gonzalvo was driving on Marangaroo Road headed east when he saw
'a big flash, kind of like lightning.
'
He told the
Daily Mail
Australia the light was so bright at first he thought he had been flashed by a speed camera.
'When I went to look up the light dimmed and I saw some sort of large object burning in the sky. It was on fire.'
He said it lasted about three seconds before it went out.
One Twitter user claimed that the light came through blue and went bright white before hitting the ground and exploding.
Another said she caught a glimpse of it and that it seemed much brighter and 'red/orange-er than any meteor I've ever seen.'
'The Mrs just saw it. Said it looked like bright falling debris rather than a meteor,' added another Twitter user.
Other locals reported hearing a loud bang, shaking windows and a bright light.