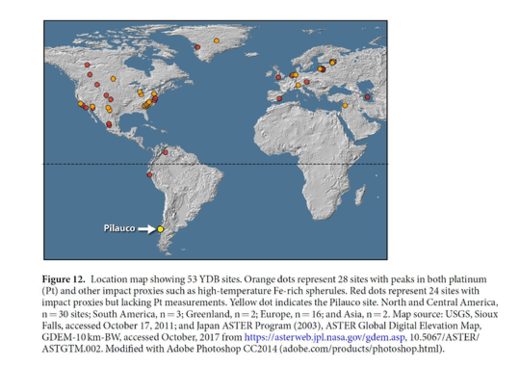 The main objective of this study was to test the YDB impact hypothesis by analyzing a wide range of data from the Pilauco site in southern Chile.
The following conclusions show that our data and interpretations are consistent with the YDB impact hypothesis and we found no evidence that refutes the hypothesis.
(1) At Pilauco, ~12,800-year-old peaks in high-temperature Pt-rich and native-Fe spherules are comparable to similar impact-related evidence found at more than 50 YDB sites in North America, Europe, and western Asia. It appears that the YDB layer at Pilauco is coeval with similar layers found at these sites on several continents and is also possibly related to the proposed YDB impact event.
(2) Identification of the YDB layer at Pilauco greatly expands the proposed YDB proxy feld ~6,000 km farther south of the closest well-studied YDB site in Venezuela, and ~12,000 km south of the northernmost YDB site in Canada, a distance equaling ~30% of Earth's circumference.
(3) Cr-rich spherules are found in the YDB layer at Pilauco, but not found at the ~50 other sites on four continents, suggesting that one or more local impacts/airbursts occurred in the Cr-rich basaltic terrain
circa Pilauco.