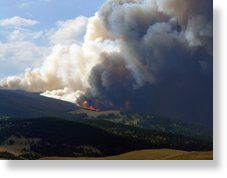 Wildfires drove early morning evacuations in western Montana and brought dozens of fresh firefighters to Washington state on Friday as crews battled dozens of blazes throughout the northwest.
Cooler temperatures and calmer winds helped firefighters control wildfires that had flared up Thursday across eastern Washington in hot, gusty winds.
But in Montana, a cold front brought lightning and sparked seven fires on forest service and private land.
Ravalli County authorities began knocking on doors at 3 a.m. Friday, warning residents about three miles west of Hamilton that a fire in the Bitterroot National Forest was threatening their homes.
The Downing Mountain fire was reported at 8 p.m. Thursday and quickly grew to 50 to 100 acres.
More than 50 homes or structures in the Blodgett and Canyon Creek areas are threatened.