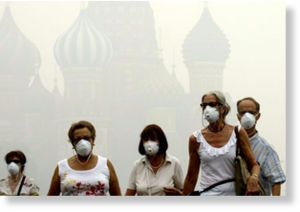 Wildfires continued to spread throughout central Russia Saturday as smog consumed Moscow, raising health concerns for residents of the Russian capital.
290 new wildfires were reported in the last 24 hours, and weather forecasters said that Russia's heat wave would continue for several more days
.
Meanwhile,
pollutants in the Moscow smog have risen to dangerously unsafe levels. carbon monoxide levels are 6.6 times higher than acceptable, and tiny invisible particles from the fires are present in concentrations 2.2 times higher than normal levels
, according to state air pollution monitoring service Mosekomonitoring.