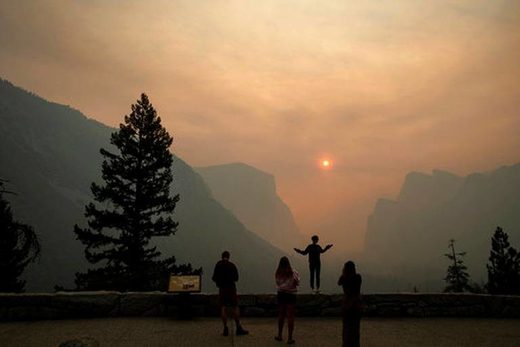 The first time
Yosemite National Park
closed because of wildfires, the iconic tourist attraction was celebrating its 100th birthday in 1990 and three major blazes shut down access for nine days.
On Wednesday, authorities shut down the popular Yosemite Valley portion of the park and told visitors to get out because of the unpredictable and difficult
Ferguson Fire
that has been chewing up forest and grasslands since it erupted 25 miles west of the park on July 13.
The closure is expected to last at least through Sunday, with fire officials saying they are making a concerted effort to stop the fire's advance through extremely steep, rugged terrain that makes battling the 60-square-mile fire particularly difficult.
"The terrain is very, very nasty in this area, both on the north and the south," U.S. Forest Service spokesman Jim Mackensen said Wednesday as new evacuations were being ordered in Mariposa County. "Some of the fuel beds in the south have no recorded fire history going back 150 years.
"It's just choked with trees and dead trees and brush that have been accumulating over the years."