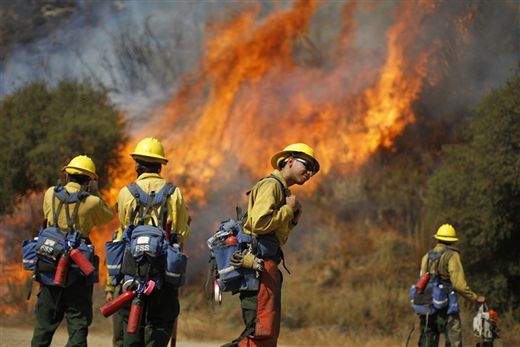 A 3,600-acre fire in the San Gabriel Mountains near Los Angeles chewed through thick brush in steep terrain that hadn't burned in two decades amid hot, dry conditions.
But with no serious winds to whip it or push it, the fire made no move toward the Los Angeles suburbs to the south, remaining within the wilderness instead.
Because of the terrain and warm temperatures, it could take a week to contain the blaze, Incident Commander James Smith of the California Department of Forestry and Fire Protection told the Associated Press. It had burned about 5 1/2 square miles by late Tuesday. Containment was at 15 percent early Tuesday, NBCLosAngeles.com reported.
In an effort to further contain the blaze, firefighters are facing steep terrain with dry brush that has not burned for 15 to 20 years.
"You're going to see an air show out there today," Nathan Judy, Angeles National Forest Fire Information Officer told NBCLosAngeles.com.