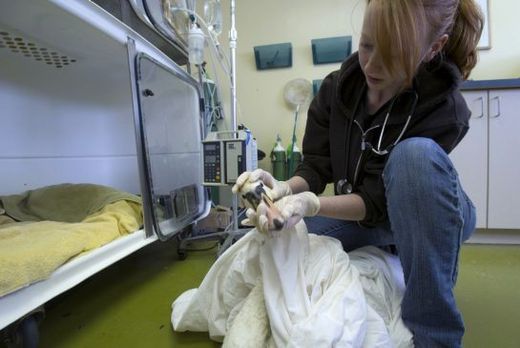 Toronto's ducks and geese are among the hardest-hit victims of this year's brutal winter weather.
Calls about dead birds - found stuck in the ice or floating lifeless in the water - shot up 66 per cent between Jan. 1 and Mar. 12 compared to the same period last year, according to Toronto Animal Services.
Meanwhile, the city's only wildlife rescue charity has been overwhelmed with dozens of fragile, injured and dying birds,
making this the worst winter it has seen in 21 years of operation.
"They're weak and they're starving," said Nathalie Karvonen, executive director of the Toronto Wildlife Centre. "Some of the birds are having traumatic injuries as well because they're in a weakened state."
The centre has rescued about
10 times as many water birds as it does during a normal winter
, more than 130 since December. Admissions of wildlife are up 50 per cent overall, said Karvonen.
Many water birds spend the winter on Georgian Bay, which has frozen solid for the first time in 20 years. The mass migration led to an intense food competition this year, as thousands of fish-eating birds compete for a few small pools of water.