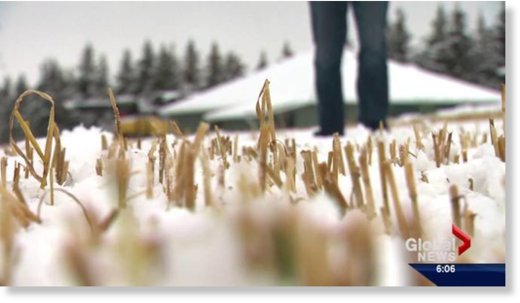 Farmers who had been hoping for warmer weather got a huge disappointment last Friday as 10 cm of snow covered the area in and around the Capital Region.
Deryk Sanford is a third-generation farmer in Lavoy, Alta. who calls the snow "a significant blow."
"When the snow hits and you take it down [to the ground] like this, you can imagine how much melting you have to do in order to get rid of that type of snow," he said.
"If we were to get a good week of no precipitation, sunshine, warm weather, we have the opportunity to get out there and take the rest of the harvest. But it's not looking good right now. We're going to need to have at least two, maybe three weeks of dry weather."
Sanford said the snow is making an already difficult year - due to rain and hail - even more difficult.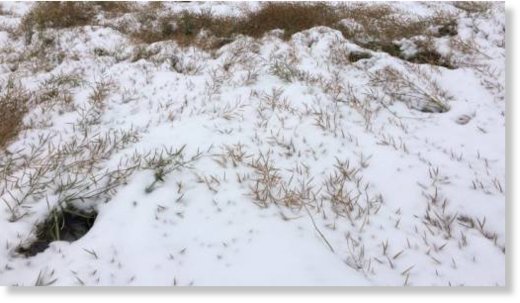 "We really had our hopes up," he said. "Now we have to be realistic with what's been dealt to us."
Sanford said he still has approximately one-third of his crops in the field and a delay in this year's harvest will have ripple effects on next year and the years to come.
"The quantity we're going to produce is still up in the air. If we were to not be able to harvest this year's crop, it impacts our 2017 production right at the beginning of the season," he said.
"If we start up in May and we have to combine for the first couple of weeks, that's going to push back our seeding, which could affect our next year's crop quality. There's only so much window to plant, to grow and to harvest your crop. There's only so many changes we can make to deal with the ramifications of what we can't do this year."
Vegreville farmer Jacqueline Laniuk is also hurting from the snow. She still has 50 per cent of her crops to harvest.

"The density is what is so damaging to all of the crops," she said.
"Would we still want to and be able to salvage what we can off of this? Absolutely. Will we be able to achieve the yields that we would have three, four days ago? No and very questionable to the quality as well."
Laniuk said the ripple effect of the early snowfall should be concerning to all Albertans and is reaching out to all levels of government.

"We all need food to exist. It's part of our food industry. It's part of a supply and need that goes on. This will affect every part of the industry."