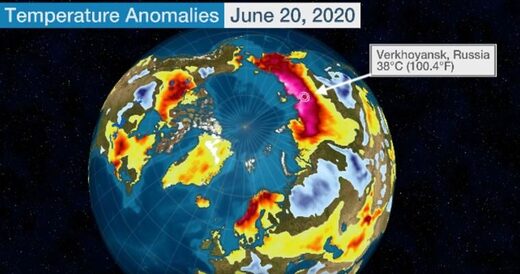 A Russian heat wave smashed an all-time record high in one Siberian town this weekend, possibly the hottest temperature on record so far north in the Arctic, continuing an off-the-charts warm year in what is typically one of coldest places on Earth.
The high temperature in Verkhoyansk, a town in northeast Russia about 260 miles south of the Arctic coast and about 6 miles north of the Arctic Circle, topped out at 38 degrees Celsius, or 100.4 degrees Fahrenheit, Saturday.
If that reading is found to be correct, that would smash the town's all-time record of 37.3 degrees Celsius - 99.1 degrees Fahrenheit - set on July 25, 1988. Temperature records in Verkhoyansk date to 1885.
It would also be the
hottest temperature on record north of the Arctic Circle
, according to Etienne Kapikian, a meteorologist with Meteo France.
The average high in late June in Verkhoyansk is only in the
upper 60s
, or around 20 degrees Celsius.