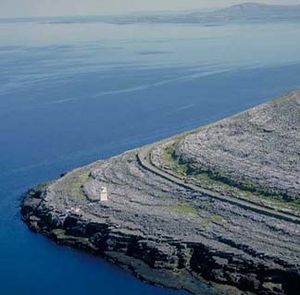 It wasn't quite
The Day After Tomorrow
but it's closer than we thought. An analysis of mud from Lough Monreagh, a lake in Co Clare, has revealed that Europe was struck by a sudden mini ice age 12,800 years ago, suggesting the kind of rapid climate change previously seen only in Hollywood disaster movies.
It was believed that the "Big Freeze" took about a decade to set in. Based on an analysis of Greenland's ice cores, scientists have estimated that the Younger Dryas, as the event is also named, occurred gradually.
However, after analysing mud deposits from Lough Monreagh, William Patterson of the University of Saskatchewan in Canada, has found that
the freeze took only months to take hold.
Using a very precise robotic scalpel, Patterson and his colleagues shaved 0.5mm layers from the lake bed, each representing up to three months of sediment. Carbon isotopes in the samples recorded changes to biological activity in the lake, while oxygen isotopes revealed temperature and rainfall patterns.
The tiny mud deposits showed for the first time that temperatures in Ireland dropped suddenly in the space of several months at the time of the Big Freeze.