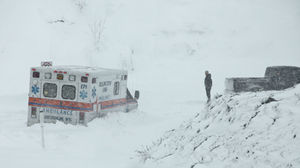 Parts of West Virginia were digging out from up to three feet of snow dumped in the aftermath of Hurricane Sandy, a deluge that cut power to hundreds of thousands of residents and shut down main highways.
The thick blanket of snow at higher elevations across the ridges of the Appalachian Mountains, including in parts of Maryland and Pennsylvania, also brought concerns that rivers and creeks in low-lying areas could flood later in the week as the snow melts, with temperatures expected to reach 60 degrees. Falling trees and storm-related traffic accidents claimed the lives of three people in Maryland, three in Pennsylvania and one in West Virginia, state officials said Tuesday.
Close to 300,000 West Virginia residents were without power Tuesday afternoon, as high winds and heavy snow snapped branches and downed power lines, and officials expected the number to rise. Outages at several utilities had left some areas without access to water, and officials were sending out trucks to deliver bottled water.
"West Virginia continues to be hard hit," said Gov. Earl Ray Tomblin, a Democrat. "Right now, my main focus is on life safety, power restoration and critical infrastructure....We are doing everything we can to help the folks in need."
More than 30 of West Virginia's 55 counties had snow, with the heaviest snowfall at higher elevations, said Liz Sommerville, a National Weather Service meteorologist in Charleston, W.Va. Bowden, above 3,000 feet, recorded 24 inches by early Tuesday, compared with 16 inches in Beckley, elevation 2,300 feet, and 9 inches in the capital of Charleston, elevation 980 feet.
"Trees are coming down. I got a feeling that a lot of weaker structures are going to come down," said Gary Berti, of Davis, W.Va., where 30 inches of snow had fallen by Tuesday afternoon. Mr. Berti, 54 years old, said all the stores along the main street of Davis were closed Tuesday and only pickup trucks with four-wheel drive were braving secondary roads. Restaurants without power were making food for rescue workers using gas stoves, he said: "They're cooking everything they've got because they know they're going to lose it."
Snow was expected to keep falling on mountainous areas through Wednesday, and blizzard warnings remained in effect in more than a dozen counties Tuesday. At lower elevations, snow was expected to turn to rain by Tuesday night.
The West Virginia Department of Transportation reported accidents on three major highways in the state and said fallen trees and power lines were complicating efforts to clear roads. The agency urged residents to stay home. Marshall University canceled classes at various campuses around the state, and West Virginia State University closed for the day.
Western Maryland recorded two feet of snow, and blizzard warnings remained in effect Tuesday. While eastern areas of the state endured some flooding, officials were bracing for worse, said Ed McDonough, a spokesman for the Maryland Emergency Management Agency. More than 300,000 people in the state were without power Tuesday, with many outages in the Baltimore area. About 50 people were evacuated late Monday from the town of Crisfield, which sits on the Chesapeake Bay, after floodwaters spilled into homes.
In Pennsylvania, 1.25 million residents remained without power Tuesday. Gov. Tom Corbett warned that the central part of the state could see minor flooding, but far less than what storms last year brought to the region. The highest point in the state, Mount Davis, received 9 inches of snow, with several more inches expected. There is "nothing of major significance at this point in time that we have great concern about," Gov. Corbett said at a midday news briefing.
Pennsylvania officials planned to have a shelter open in West Chester, Pa., to house 1,300 people from New Jersey, and another in East Stroudsburg, Pa., to aid 500 people displaced in New York. In addition, Pennsylvania officials were providing 35 ambulances and a large vehicle to transport people, as well as providing a rescue team requested by the Federal Emergency Management Agency to New Jersey.