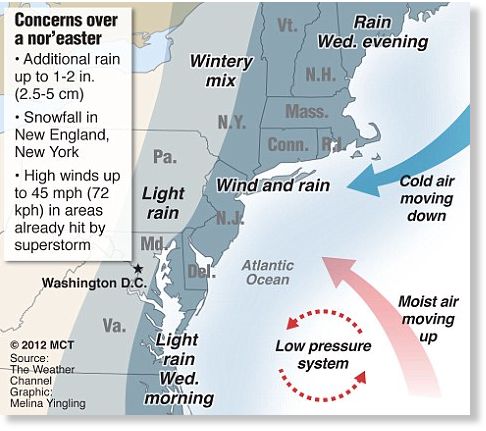 Up to 40,000 New Yorkers may need to be relocated as the city prepares for freezing temperatures and more rain and wind from a 'nor'easter' storm. It is expected to hit New York and New Jersey with gusts of up to 55mph by Wednesday. The strongest winds are forecast for Long Island, with 40mph more likely for New York City. There is also the chance of more beach erosion, coastal flooding and trees weakened by Superstorm Sandy being felled.
Up to four inches of rain is expected along with snowfall in more inland mountainous areas and a tidal storm surge of up to 5ft is possible, forecasters say. New York City Mayor Michael Bloomberg said tens of thousands of people were in need of shelter, including 20,000 in public housing. Almost 2million people still have no power as cold weather sets in - a week after Sandy wreaked havoc on the East Coast, killing at least 113 in the US.
Hundreds of thousands of commuters today faced tricky journeys into the city as public transport remained patchy. Rail service was reduced and the subway was at 80 per cent of its normal service. Most schools were due to reopen today, but some lacked power and others were being used as shelters.
The challenges were more severe for tens of thousands of people unable to return to their homes and many more living without power or heat, with the next storm hitting by the middle of this week. Hurricane Sandy killed 69 people in the Caribbean before turning north and hitting the US at 80mph.
Concerns are also rising that voters won't get to polling stations on tomorrow's Election Day. Many voting centres were rendered useless by the record surge of seawater in New York and New Jersey.
New Jersey will allow people displaced by the storm to vote by email. In New York City, 143,000 voters will be reassigned to different polling sites. Both states are normally easy Democrat wins.
About 1.9million homes and businesses across the US remained in the dark last night as the pressure mounted on power providers to restore electricity to areas hit hardest by the storm. In New York, utilities came under pressure to restore heat and light to 650,000 customers.
Read more...