Extreme Temperatures
Xinhua
Mon, 21 Nov 2022 11:30 UTC
---
Aya Elamroussi
CNN
Sat, 19 Nov 2022 11:31 UTC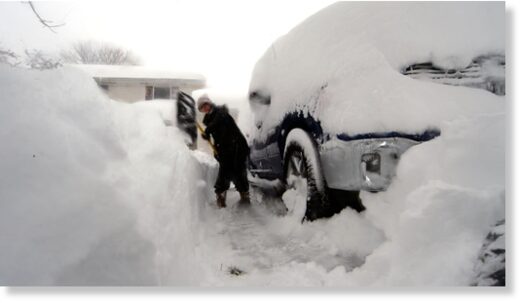 New Yorkers in the western part of the state are still being slammed with a massive snowstorm that has shut down roads, triggered driving bans and canceled flights the weekend before the Thanksgiving holiday.
By Friday evening,

5.5 feet of snow had covered streets in the town of Orchard Park

, New York, near Buffalo in hard-hit Erie County, according to the National Weather Service.
As the snowfall intensified, two county residents died from cardiac complications related to shoveling and attempting to clear the grounds, said County Executive Mark Poloncarz.
"We send our deepest sympathies and remind all that this snow is very heavy and dangerous,"
Poloncarz said.
Comment:
Update
ABC7ny.com
reports
:
Snow totals across the Buffalo area and northern New York from lake-effect snow in November 2022



The Buffalo metro area was hit particularly hard by historic lake effect snow, with some areas south of the city receiving more than 5 feet by early Saturday.

According to the National Weather Service, the suburb of Orchard Park, home to the NFL's Buffalo Bills,

reported 77 inches (196 centimeters)

by early Saturday. About 80 miles (129 kilometers) northeast of the city, the town of Natural Bridge, near the Fort Drum Army base, reported just under 6 feet.


The top 5 snowfall locations as of early Saturday afternoon are:

ORCHARD PARK in Erie County with

77 inches



HAMBURG in Erie County with

73.7 inches



NATURAL BRIDGE in Jefferson County with

72.3 inches



BLASDELL in Erie County with 65 inches

ELMA in Erie County with 58.2 inches
---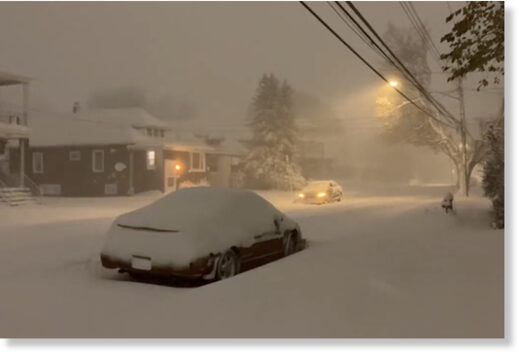 A dangerous lake-effect snowstorm paralyzed parts of western and northern New York, with more than a foot of snow already on the ground Friday morning in places and a driving ban keeping people off the roads in the Buffalo area.
The heaviest snowfall was expected in Buffalo, where the National Weather Service said up to 4 feet might fall in some spots through Sunday, with periods of near-zero visibility.
Other areas could get a foot or less of the lake-effect snow, which is caused by frigid air picking up copious amounts of moisture from the warmer lakes.
Reports to the weather service early Friday exceeded a foot of snow along the eastern end of Lake Erie, with totals as high as 20 inches in Hamburg, N.Y., about 12 miles from Buffalo.
New York Gov. Kathy Hochul declared a state of emergency Thursday for parts of western New York, including communities along the eastern ends of Lake Erie and Lake Ontario. It covers 11 counties, with commercial truck traffic banned from a stretch of Interstate 90.
Erie County Executive Mark Poloncarz issued a driving ban beginning Thursday night, shortly after heavy snow punctuated by thunder and lightning -- known as "thunder snow" -- moved into Buffalo, quickly covering the ground and roads.
The most intense snowfall was expected to last through Friday evening, with more falling on Saturday into Sunday.
---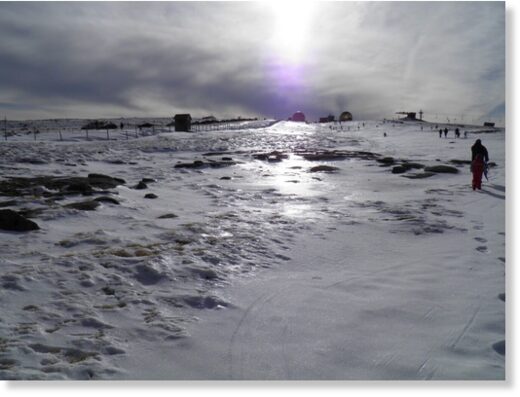 The images of Serra da Estrela, captured today (18 November), were shared on Twitter by the Meteo Trás-os-Montes group.
In the video, the highest point of mainland Portugal can be seen covered in snow.
To view the full video click here.
In addition to the snow, according to Meteo Trás-os-Montes, strong wind is also being felt in Serra da Estrela.
---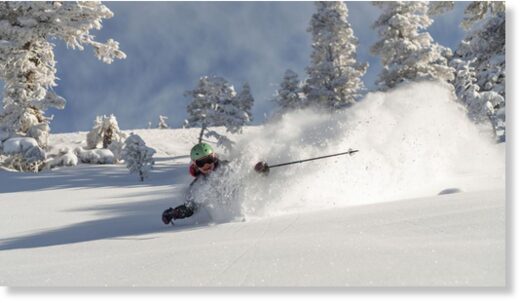 Jackson Hole is a mecca for skiers and snowboarders from around the world. With winter weather pummeling the region, the increasing amount of fresh powder on the slopes is music to the ears of staff at the three ski resorts in Jackson - Snow King, Jackson Hole Mountain Resort and Grand Targhee.
Jake Zatz with Hoback Mountain Sports in Jackson said some parts of the mountain have already received 3 feet of snow.
"It's been a great start to the season," he told
Cowboy State Daily.
"Obviously, the resorts aren't really open yet, but the stoke is definitely high."
---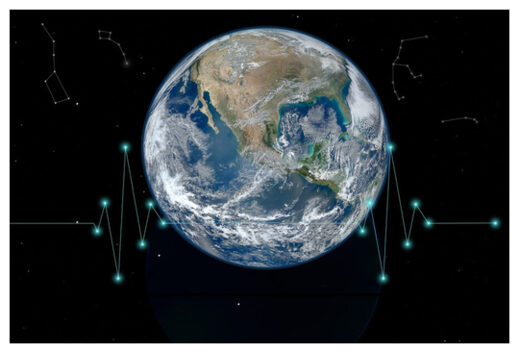 The Earth's climate has undergone some big changes, from global volcanism to planet-cooling ice ages and dramatic shifts in solar radiation. And yet life, for the last 3.7 billion years, has kept on beating.
Now, a
study
by MIT researchers in Science Advances confirms that
the planet harbors a "stabilizing feedback" mechanism that acts over hundreds of thousands of years to pull the climate back from the brink, keeping global temperatures within a steady, habitable range.
Just how does it accomplish this? A likely mechanism is
"silicate weathering"
— a geological process by which the slow and steady weathering of silicate rocks involves chemical reactions that ultimately draw carbon dioxide out of the atmosphere and into ocean sediments, trapping the gas in rocks.
Scientists have long suspected that silicate weathering plays a major role in regulating the Earth's carbon cycle. The mechanism of silicate weathering could provide a geologically constant force in keeping carbon dioxide — and global temperatures — in check. But there's never been direct evidence for the continual operation of such a feedback, until now.
The new findings are based on a study of paleoclimate data that record changes in average global temperatures over the last 66 million years. The MIT team applied a mathematical analysis to see whether the data revealed any patterns characteristic of stabilizing phenomena that reined in global temperatures on a geologic timescale.
They found that indeed there appears to be a consistent pattern in which the Earth's temperature swings are dampened over timescales of hundreds of thousands of years. The duration of this effect is similar to the timescales over which silicate weathering is predicted to act.
The results are the first to use actual data to confirm the existence of a stabilizing feedback, the mechanism of which is likely silicate weathering. This stabilizing feedback would explain how the Earth has remained habitable through dramatic climate events in the geologic past.
"On the one hand, it's good because we know that today's global warming will eventually be canceled out through this stabilizing feedback," says Constantin Arnscheidt, a graduate student in MIT's Department of Earth, Atmospheric and Planetary Sciences (EAPS). "But on the other hand, it will take hundreds of thousands of years to happen, so not fast enough to solve our present-day issues."
The study is co-authored by Arnscheidt and Daniel Rothman, professor of geophysics at MIT.
---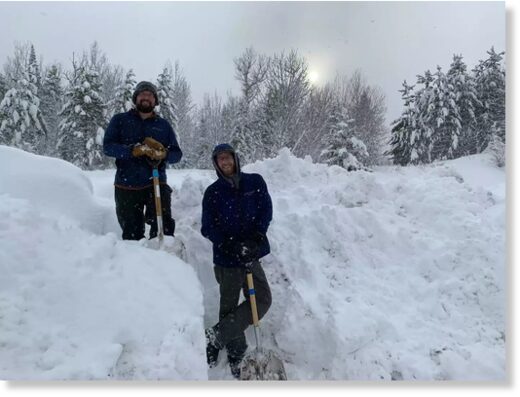 Snow continued to fall across parts of the Northland on Wednesday morning as a three-day snow event continued to add up, with two feet already fallen in parts of the Arrowhead region.
The heaviest snow totals came from the higher hills above Lake Superior's North Shore, including a report of
24 inches of snow since Monday at Lax Lake a few miles outside Silver Bay, 21 inches in Finland, 20 inches on the Gunflint Trail and 19.7 inches near Grand Marais.
The National Weather Service in Duluth posted a winter storm warning for Lake County's portion of the North Shore, where up to 8 additional inches were possible Wednesday, and a winter weather advisory for the Cook County's portion of the North Shore for another 1-3 inches of additional snow.
Light snow could continue into Thursday for much of the Northland before skies begin to clear and temperatures drop for the weekend.
---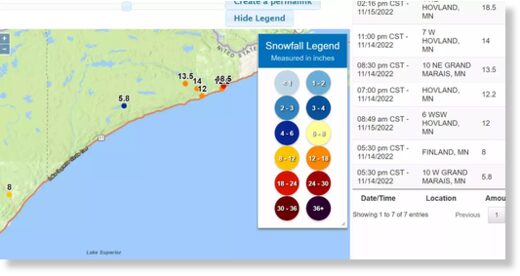 Heavy "fire hose" effect snowfall on the North Shore
Crank up the lake-effect fire hose.
A concentrated plume of heavy
lake-effect snow
dumped 18.5 inches of snow so far this week near Hovland, east of Grand Marais along Minnesota's North Shore.
Snowfall reports
are still coming in and snow is still falling in some areas,
but several locations along the North Shore have already received between 6 and 14 inches of snow.
---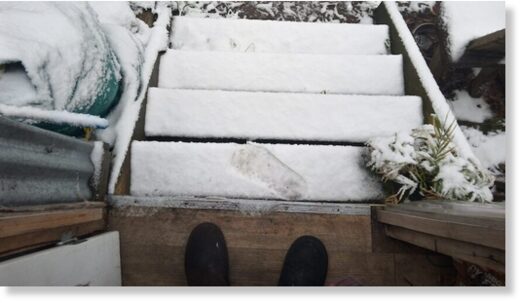 Just days after southern Tasmania experienced its first taste of summer, the region is being slammed by wild weather, with heavy rain forecast and snow settling at higher altitudes.
Tasmania Police said snow had settled at Vinces Saddle on the Huon Highway,
about 200 metres lower than initially forecast.
Parts of kunanyi/Mt Wellington have also experienced snowfall.
Bureau of Meteorology duty forecaster Michael Conway said snow was possible in elevated parts across the warning areas, including the south and south-east, lower east coast, southern midlands and central plateau.
He said this was likely to cause cooler temperatures throughout the morning.
---
Jim Maurice
wjon.com
Fri, 11 Nov 2022 11:07 UTC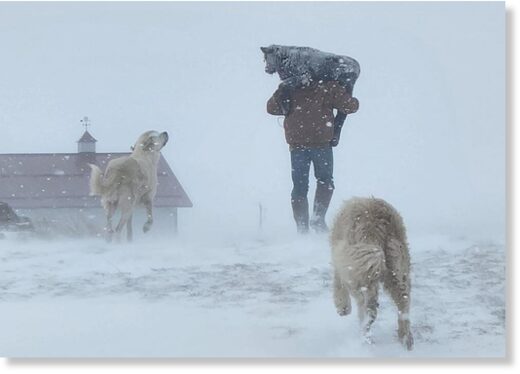 The National Weather Service is reporting some really big snowfall totals for central North Dakota into Northwestern Minnesota.
The first snowstorm of the season produced a Blizzard Warning for much of that area on Wednesday and Thursday.
The National Weather Service
says
Bismarck has had 24 inches of snow, Steel 22", Mandan 21", and Devils Lake 12.5".
Grand Forks is at 9.1" and Roseau at 7.5".
A
Winter Weather Advisory
remains in place for the northern third of Minnesota until 9:00 a.m. Friday. Additional snow accumulations should be less than an inch. However, 40 mile an hour winds will blow the snow around that has already fallen.
---