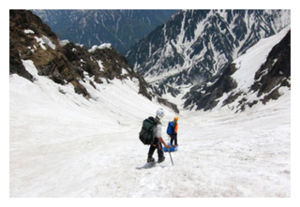 Scientists have found three glaciers in Toyama Prefecture, the first recognized in Japan and the southernmost in East Asia.
Tateyama Caldera Sabo Museum discovered the three slow-moving chunks of ice in the Hida Mountain Range, otherwise known as the Northern Alps.
Their research paper submitted to the Japanese Society of Snow and Ice was accepted Tuesday, the museum said.
A glacier is defined as a large mass of ice that over many years "flows" owing to its great weight, according to the Japanese Society of Snow and Ice. They are often found on high mountains, such as the Himalayas, and have even been found on Mount Kilimanjaro, which is almost on the equator. Until now, the southernmost glaciers in East Asia were on Russia's Kamchatka Peninsula.
"We have known something similar to glaciers existed, so we checked to see if the masses of ice are moving," said Hajime Lida, a researcher for the museum.