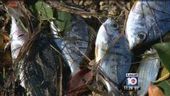 Fort Lauderdale -- As Florida's record cold snap moves out, the impact near-freezing temperatures have had on wildlife continues to threaten the state's fragile ecosystem.
Freezing fish, thousands of them, line the coast of South Florida from Key West to Fort Lauderdale.
"Cold water stress is causing all of these fish to die. We are seeing freshwater fish, saltwater fish, all turning up belly up," said Officer Jorge Pino of the Florida Fish and Wildlife Conservation Commission.
Pino ad the FWC patrol the state's waterways.
"The problem is the cold weather is altering the oxygen levels in the water, and that's causing the fish to die," he said.