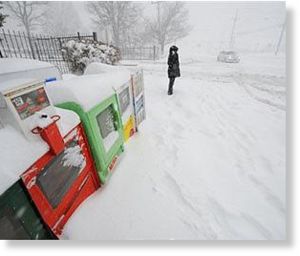 After a 2011-2012 winter that saw little snow, the mid-Atlantic and southern New England states will get a snow dump this winter, forecasters say. Above-normal snowfall during winter 2012-2013 is forecast for the major I-95 cities including New York, Philadelphia, Baltimore and Washington, AccuWeather.com reported Wednesday.
"The I-95 cities could get hit pretty good," forecaster Paul Pastelok said. "It's a matter of getting the cold to phase in with the huge systems that we are going to see coming out of the southern branch of the
jet stream
this year."
The presence -- and strength -- of El Nino conditions in the Pacific Ocean are used to project how active the winter season will be, forecasters said.
El Nino warming of ocean water and the air above it causes weather patterns to change globally, and El Nino winters feature a strong southern branch of the jet stream across the United States, AccuWeather.com said.
When the strong southern jet stream phases with the northern branch of the jet stream, meteorologists said, big storms can hit the east coast.