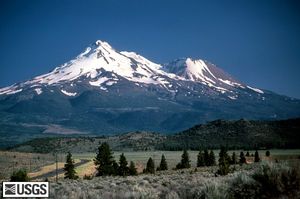 Although the media has done a great job of covering this up, the inconvenient fact is that all seven glaciers on California's Mount Shasta are growing. This includes Whitney Glacier, the state's largest.
Yes, growing. Not melting.
Not only are
Mt. Shasta's glaciers growing
, two have nearly doubled in size.
Both the
Hotlum and Wintun Glaciers have nearly doubled in size
since 1950, says this article on Wikipedia. The Bolam Glacier has increased by half, while the Whitney and Konwakiton Glaciers have grown by a third.
Scientists first became aware of these
growing California glaciers
in 2002, and I began writing about them in 2003. Now, eight years later, most media outlets still refuse to acknowledge that these glaciers are growing.
After this year's record snowfall, it will become harder to continue the deception.