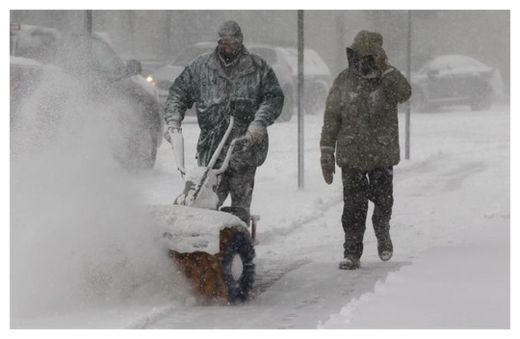 Toronto - The Weather Network's top forecaster is advising Canadians to keep their winter mitts close and snow shovels even closer as he expects much of the country is in for a harsher blast of winter than it was dealt last year.
"We'll get more winter this year than we did last year," said director of meteorology Chris Scott.
And that means a return to more "typical" historic conditions of cold and snow gripping much of the country, he said.
"If you think back on Christmas Day (2011) there were many major cities in the country that didn't have a lot of snow on the ground - and that was the theme for the winter."
"The way things are shaping up right now we think there'll be more cold air to work with and as a result we think that some of these storm systems that track through will dump a bit more snow than they did last year," Scott said.
Scott and the network's team of meteorologists are predicting that most of Atlantic Canada will see higher temperatures and more snow than usual, while the northern Prairies, Northwest Territories and western parts of Nunavut will dip below their 30-year temperature average.
The Great Lakes region and Gulf of St. Lawrence should also get more of the white stuff, he said.
But for the rest of the country, he said precipitation and temperatures should, for the most part, remain within historic norms - a return to reality after last year's relatively mild winter.
Scott is forecasting some fluctuations where a sudden influx of warm air from the south is quickly replaced by much colder air from the north, setting the stage for more storms and snow levels matching the long-term average.
"This year you may not been in the deep freeze all the time but it does look like there will be more cold air to play with," he said.
"If it's cold and you've got moisture, you've got snow - that's what we expect as a typical Canadian winter. And at least compared to last year we've got more of that, it looks like, on the way."
Scott said the forecast is a "sketch" of what is likely in store for the next three months, cautioning that it's only a cumulative average - leaving the door open for isolated weather events.
"We do think there will be extremes this winter. We will see these periods where we go from warm to cold pretty quickly."
He said much of the methodology underpinning the network's winter forecast stems from the presence of La Nina or El Nino systems in the tropical Pacific Ocean - which are predictable several months in advance.
Scott said that since neither of those systems are expected be particularly strong this winter season, more Arctic air is likely to move in and cool things down.
He said that climate change is "shifting the range" of weather, noting that many winters in the last decade have been warmer than the historical norms.
But that doesn't mean less snow and higher temperatures every winter, Scott said.
"It doesn't mean that we can't get cold winters... if you were to project 30 to 40 years in the future, we could still get some pretty harsh winters."
"It's just that the odds are going to tilt towards milder winters," he said.