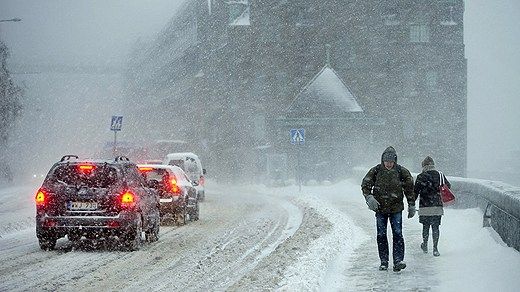 Heavy snowfall in the southeast has disrupted traffic in Stockholm, where planes have been unable to take off and many bus and train lines stopped running. Several schools closed early on Wednesday. The snowfall is expected to continue through the night. The Transport Authority has advised people in the Stockholm region to avoid traveling by car.
The weather service issued a class 2 warning for Sweden's southeast due to the heavy snowfall and winds, meaning the weather could put the public in danger and disrupt infrastructure.
"Commuters can expect the snowfall to continue," meteorologist Linnea Rehn with the weather service SMHI tells Swedish Radio. There may yet be another 10 centimetres before this evening."
Planes could not leave Arlanda airport, Stockholm's biggest, at lunchtime on Wednesday, but one runway was being used for departures. Around 60,000 plane passengers will be affected. Cancellations and delays at Arlanda will affect travellers on Thursday, too.
"We cannot receive landing planes at the moment and are prioritizing passengers who have come to Arlanda to leave," Klas Nilsson, press spokesperson at the airport managing company Swedavia, told news agency TT on Wednesday.
Skavsta airport, 90 minutes south of Stockholm, had not cancelled any flights on Wednesday morning, but there were severe disruptions at Bromma airport.
Meanwhile, Stockholm's main bus lines stopped running on Wednesday, with shorter lines running as replacements, according to news agency TT.
Swedish Railways experienced delays along the eastern coast during the day. The Stockholm subway ran mostly on schedule, but bus lines suffered long delays and cancellations.
"Almost all buses are heavily delayed. The subway and other train lines are running as planned. Commuter trains are running smoothly as well, but aren't departing as often as they usually do," Fredrik Cavalli-Björkman, press spokesperson at Stockholm Public Transport, tells the news agency TT.
There were several accidents on Wednesday. A woman died north of Borås, in western Sweden, after driving off the road in the snow, TT reports.
According to the SOS alarm service one person was severely injured in an accident involving a car and a truck near Uppsala.
A chartered bus with around 50 pensioner passengers turned over on the E 18 highway outside Enköping, also in the Uppsala county. According to early reports there were no severe injuries, but the passengers were stuck inside the bus.
The Swedish Weather Service expects the snowfall along Sweden's southeastern coast to continue throughout Thursday night.