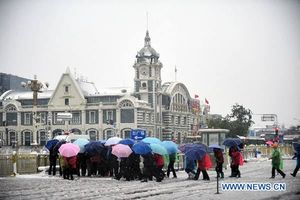 Beijing authorities released a citywide orange alert and regional red alert concerning blizzards early on Sunday morning as a cold spell swept across northern China.
China has a four-tier color-coded snow warning system: red, orange, yellow and blue, red being the most serious.
By 10 a.m. on Sunday, the capital had received an average daily precipitation of over 58 mm, a post-1951 record for the city during China's Nov.-March winter period, according to the Beijing Meteorological Center.
In the Fenghuangling region of Haidian District, the snowfall has lasted for over 40 hours and brought the maximal precipitation to 96 mm.
"With a complicated distribution of precipitation, this process is bringing greatly different effects to citizens living in various regions of such a a large city," said Sun Jisong, the center's chief forecaster.