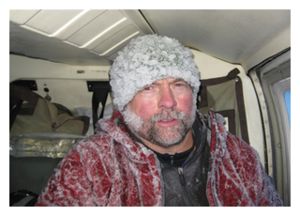 Two researchers and their pilot were rescued Friday from a remote Alaska volcano after freezing rain left thick ice on their helicopter's blades.
Alaska State Troopers spokeswoman Megan Peters said the rescue came at about 5 p.m. Friday. The three were caught in a freezing rainstorm Wednesday evening. Pilot Sam Egli, United States Geological Survey geophysicist John Paskievitch, and University of Alaska-Fairbanks researcher Taryn Lopez were not injured.
They were attempting to monitor volcano equipment when "the weather moved in," Egli said. The work is part of an assignment to also repair permanent monitoring equipment on volcanoes in the area known as the Valley of 10,000 Smokes. Freezing fog enveloped the research area and iced over the helicopter's rotator blades.
"We were unable to produce enough lift to take off at that point," Egli said. "The weather didn't clear up after that."
Without any means to heat the helicopter blades, the trio was stuck. On Friday afternoon, a rescue helicopter lifted Egli and the researchers to safety. Peters said the helicopter remains on Mount Mageik about 280 miles southwest of Anchorage at Katmai National Park and Preserve.
Asked how they passed the time for more than two days, Egli said "we just yakked."
"There wasn't anything to do," he said. "We work together, we've got things in common, so we just talked about that."
The three were well-equipped with survival gear and food. They remained in the helicopter until they were rescued.