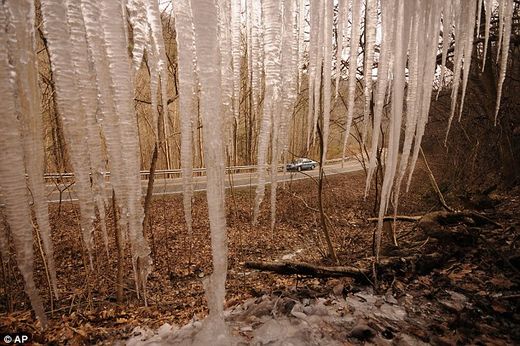 Meteorologists are forecasting yet another snow storm for the East Coast, which will arrive on Monday
First Super Bowl to be held in open-air stadium set to be hit by freezing cold
Teams on high alert game in New Jersey on February 2 could be postponed
The Midwest will be hit with a blast as well between Friday and Saturday, which may cause dangerous roads and flight cancellations
Yet another storm is expected to follow the storm scheduled for Monday and is set to hit just one or two days before the Super Bowl on February 2
The championship game will be held in East Rutherford, New Jersey where workers shoveled snow all day after Tuesday's unexpected whiteout
America is set for the coldest month of the century as weather forecasters predict yet another freezing blast of Arctic air - putting Super Bowl Sunday in jeopardy.
Teams have been warned to stay on high alert for changes to the scheduling of the first Super Bowl to be played in an open-air stadium.
Temperatures have already hit record lows, at times
making parts of the U.S. colder than the North Pole, and are expected to plunge in the coming days
.
The timing could not be worse for one of the biggest global sporting events, which will be exposed to the full force of the elements at the MetLife Stadium in East Rutherford, New Jersey on February 2.
Eric Grubman, NFL vice president of business operations, told the
Denver Post
: 'We are advising teams to prepare in case a contingency plan goes into effect.'