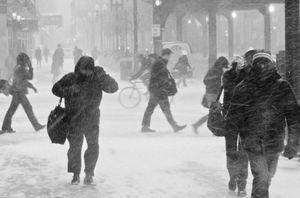 The wind chill hit 40 degrees below zero Monday morning at O'Hare Airport, and the extreme cold is expected to stick around for the next couple of days, meteorologists said.
At midnight, the temperature at O'Hare was 3 degrees below zero, which is the warmest temperature the city is likely to see throughout the entire day, National Weather Service meteorologist Matt Friedlein said.
A temperature of 16 degrees below zero was measured at O'Hare Airport later in the morning, breaking the record of 14 below zero set twice in 1884 and 1988 on Jan. 6, according to the National Weather Service.
That's colder than the South Pole in Antarctica, where the temperature was recorded at 11 degrees below zero at the Amundsen-Scott South Pole Station before 8 a.m. It was also colder than Novosibirsk, a city in southwest Siberia, which was 6 degrees below zero,
according to the Weather Channel
.
The lowest temperature ever recorded in Chicago by the National Weather Service was 27 degrees below zero on Jan. 20, 1985.