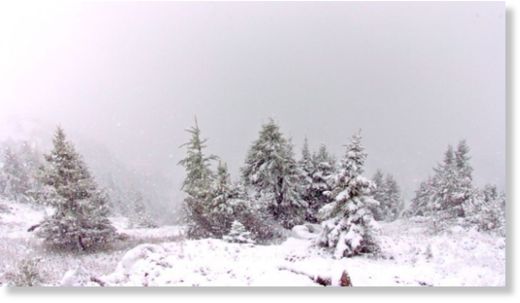 It's not expected to stick around, but snow was falling at the outer edges of Calgary and many areas west, south and north of the city late in the day on Friday.
Environment Canada's Bill McMurtry says most of the snow was reported at higher elevations in the Rockies and Foothills.
"We are anticipating that snow will continue for the remainder of the afternoon and evening period," he told CBC News. "As the system moves off to the east towards Saskatchewan and Manitoba we'll see skies clear overnight and that will end the precipitation."
Webcams belonging to the Lake Louise Ski Resort and Sunshine Village show the snow already accumulating in higher elevations.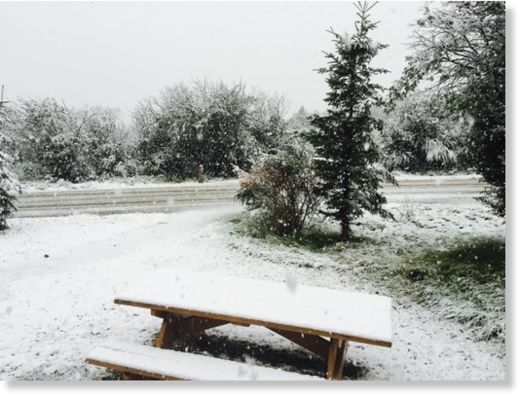 Rain was also falling in many other areas of southern Alberta.
"In addition to the rain, strong northerly winds will develop behind a cold front with gusts from 60 to 80 km/h," Environment Canada said on its website.
"Falling temperatures will accompany the strong winds. Tonight, as a ridge of high pressure moves in and skies clear, local frost is possible as temperatures dip close to freezing."
Frost advisories
Environment Canada issued frost advisories for many parts of southern and central Alberta late Friday.
"It looks like a very cool air mass is moving in behind this weather system," McMurtry said.
He said the province's eastern edge may be spared thanks to cloud cover and moderate winds, and the frost impact in other areas may be lessened with the presence of fog or morning dew.
"Many areas are looking at overnight lows in that 2 C to 3 C range, and low lying areas could see frost," said McMurtry.
He expects areas in the Foothills west of Highway 2 and higher elevations to be the most affected.