Weird weather prompted road closures
Richardson Highway was shut Friday between milepost 12-82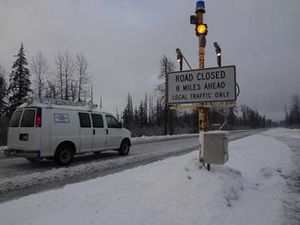 Valdez continued to break November weather records last week.
According to the National Weather Service, Valdez received
14.7 inches of snow Sunday, breaking the old November 24 record of 10.4 inches set in 1993.
But record-breaking events aside, areas of Prince William Sound and the Copper Basin received a heavy dose of brutal weather conditions last week which eventually prompted the closure of the Richardson Highway Friday from Mileposts 12 - 82.
Last Wednesday, after temperatures dipped under 40 degrees below zero in the Glennallen area, the weather service issued a freezing rain advisory for last Thursday night through Friday.
"Warm air aloft will spread over cold air at the surface late Thursday night leading to freezing rain through Friday evening," the weather service said. "Cold air will move back in and allow precipitation to change back to all snow Friday night."
The advisory was well timed, as the weather produced blinding road conditions, with water on top of ice, snow, snow drifts, snow on ice and numerous other safety hazards.
Freezing rain was also reported in the Alpine Woods subdivision Thursday night, with one area resident reporting freezing rain falling with a home weather station thermometer reading 15 degrees above zero.
The week before, Valdez set several daily snow records for November, after experiencing a very warm October that was nearly free of snow.