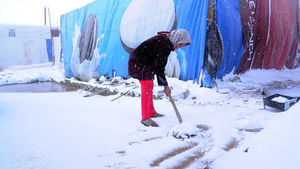 At least two people were killed and 14 injured as the first snowfall of the season hit Syria and Lebanon. High winds and freezing temperatures affected refugee camps and disrupted international aid. More severe weather is expected this winter.
The storm, named 'Alexa,' took the lives of two people and injured 14 others in Lebanon, Ya Libnan reported, citing Red Cross Secretary General George Kettaneh.
The winter storm caused transportation chaos in the region and grounded the UN humanitarian airlift, which was scheduled to bring food and supplies from Iraq to the northeastern Kurdish areas of Syria. Tens of thousands of people are isolated in those areas, waiting for the aid to arrive.
"Qamishli airport (in Syria) has suspended all flights due to weather conditions, snow and poor visibility,"
UN High Commissioner for Refugees (UNHR) spokesman Dan McNorton told Reuters.
"We're not going to be able to make those flights happen until the weather improves."
The storm is estimated to last until Saturday, with temperatures plummeting below seven degrees Celsius in mountainous regions of Lebanon.
"I don't know if this tent will hold up, it's just a few flimsy pieces of metal holding it up,"
refugee Abu Suleiman told AP. He resides in the Lebanese town of Marj, located near the border with Syria.
In the northeastern Lebanese town of Arsal, temperatures hovered just above zero degrees Celsius. A member of the town's municipal council, Wafiq Khalaf, said that refugees were
"shivering with cold, especially the ones in tents."
"At the moment there is more than 10 centimeters of snow on the ground, but more is expected,"
he told AFP.