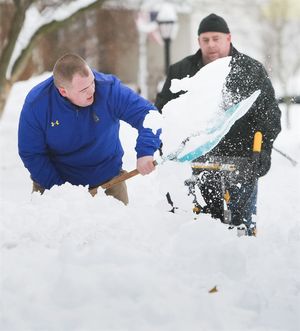 Winter administered a fresh whipping to parts of the Northeast overnight, as a new storm brought more snow and high winds to the region.
The latest blast came as residents were still digging out from a major storm that caused at least 25 deaths, and at its height, left hundreds of thousands without power on the East Coast and in the South.
New England was absorbing the worst of the weekend storm, which was moving in Saturday evening. Up to 12 inches of snow fell in eastern Massachusetts, and parts of Maine and Rhode Island overnight, Weather Channel meteorologist Mark Swaim said.
New York City and Boston, which both saw flurries overnight, were waking up to lower than average temperatures: Upper 20s in Beantown and lower 30s in the Big Apple.
Massachusetts Gov. Deval Patrick on Saturday warned drivers to stay off the roads for a 12-hour period beginning at 5 p.m., saying, "It won't be possible to keep up with the clearing of the roads."