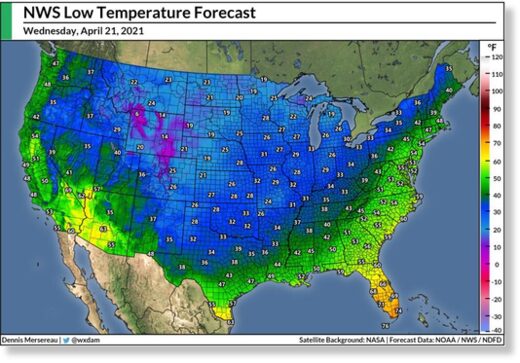 A thin blanket of snow covered budding trees in communities across the midwestern United States on Tuesday as a strong cold front brought the region unusually wintry conditions for this late into the spring season. While the snow was mostly conversational instead of disruptive,
the freezing temperatures that follow behind the front could pose a threat to gardens and crops alike.
An upper-level trough dipping over the Great Lakes is responsible for the belated touch of winter spreading across much of the country this week. The cold front producing the snow and ushering in the cold air extends off of a low-pressure system up in southern Quebec.
Snow fell as far south as Tulsa, Oklahoma, on Tuesday afternoon as the front moved through the region. The National Weather Service expected a "slushy" couple of inches of snow from northern Illinois to western New York, and winter weather alerts are in place for southern Ontario
where the Greater Toronto Area could see a dusting of snow by the end of the precipitation.