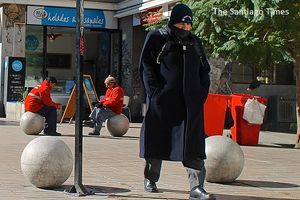 Record low temperatures hit Chile with many parts of Santiago experiencing temperatures below freezing Monday as fresh snow falls in the Andes.
Santiago and other cities were affected by record low temperatures during the past few days, with some areas reaching as low as 16.8 F (-8.4 C) Monday.
The south central area of Chile faced the coldest temperatures of the year on Monday with below-freezing temperatures expected to continue until Tuesday, according to the Chilean Meteorological Office (DMC).
Chilean students received a cold welcome back from their winter vacation as Santiago's lowest temperature of the year came in at 26.6 F (-3 C) in Quinta Normal at 6:56 a.m. Monday morning. Santiago saw a high of 55.4 F (13 C). Just outside of the capital, Lampa claimed the country's record low temperature of the year with shivering lows of 16.8 F (-8.4 C). Calera de Tango in the Valparaíso Region clocked in with a low of 25.5 F (-3.6 C).