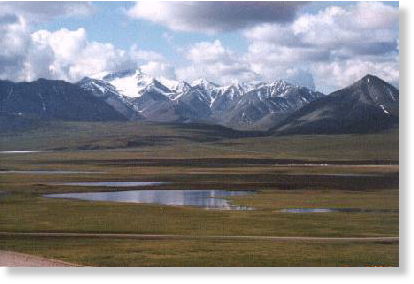 Visitors to Denali National Park may get more than they bargained for today, as the National Weather Service has issued a
winter weather advisory for the area.
The weather advisory went into effect at 6 p.m. Wednesday and was scheduled to last through noon today.
Snow topped the list of concerns precipitating the need for a weather advisory, according to meteorologists at the National Weather Service station in Fairbanks.
Meteorologists estimate the park will receive 4 to 8 inches of snow.
The Weather Service estimates the snow will fall about 2,500 feet above sea level, which would leave the visitors center and much of the beginning of the park road clear of snow. A significant portion of the park road lies above 2,500 feet, however, as the road's elevation begins climbing early and rises significantly near Sable Pass.
The snow could prove problematic for visitors hoping to experience the park on one of the bus tours. For visitors, the buses are the only motorized method of travel on the park road beyond Savage River.
Scott Berg, a meteorologist with the Weather Service in Fairbanks, said Polychrome Pass, about 40 miles down the park road, is their primary area of concern. In that area, the road climbs a steep cliff face and narrows to a size just wide enough for two buses to pass each other.
Park officials could not initially be reached for comment Wednesday, as the entire park lost internet and phone service when a telecommunications wire was cut. Communications on the park were restored at about 7:30 p.m.
Park Spokeswoman Kathleen Kelly could not say whether the park road would be closed Wednesday. She said such a decision would fall to roads crews and visitor and resource protection officers. Denali National park keeps two road crews — one on each end of the park road — that are able to respond to clear the road if needed.
Berg said it's not completely unusual to have this kind of snow in the Alaska range in June, but it may throw off many visitors who aren't used to snow at this time of year.
Significant snowfall is also expected to the north, in the Brooks Range. The Weather Service put out another advisory Wednesday for snow in the western and central Brooks range.
The Weather Service estimates as much as 12 inches of snow may fall in the central Brooks Range.
Snow is expected to fall on the Dalton Highway in the Atigun Pass area, though Berg said it was unclear if that would have any impact on the highway repair efforts underway by the Alaska Department of Transportation.
Meadow Bailey, the department's spokeswoman, said the department is monitoring the weather and staying in contact with the Weather Service. She said the department has no way to know whether the snow will affect repair efforts until it hits.