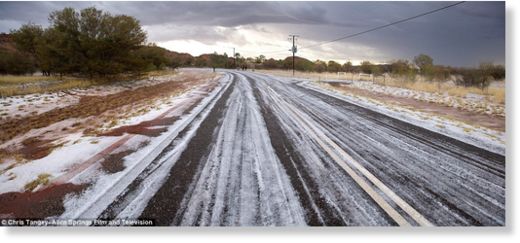 In a bizarre but beautiful sight the Red Centre turned white on Saturday following a thunderstorm which blanketed the area in a sheet of hail.
Photographs show a stunning contrast between the bright earth and hailstones covering the ground in parts of Alice Springs.
While the area does see storms it's not often conditions are just right to deliver the spectacle it did at the weekend.
'This event was set apart due to the fact it was a slow moving storm,' Jackson Browne, a meteorologist at the Darwin Bureau of Meteorology explained to Daily Mail Australia.
'Usually these storm cells move with quite a lot of pace,' he said, adding that although hail is present in most storms it has often melted by the time it meets the ground.
As the hailstones were only marble-sized they weren't large enough to cause any damage,
but they did provide quite a sight for locals, many of whom have never seen hail despite living in the area for years.