Barely a week after the last snowstorm pounded Turkey, another is bringing snow across much of the country as a trough of low pressure digs southward.
Moisture being pulled to the north from the Mediterranean Sea will combine with cold air from Russia to produce a widespread and long-lived snowstorm.
While western Turkey was hit hard by the previous storm, the worst of this snowstorm is expected to occur across central and east-central Turkey.
The higher terrain of northwestern Turkey can still get a significant snowfall, while Istanbul experiences rounds of snow squalls.
Additional accumulating snowfall is expected in Istanbul Tuesday night through Thursday. Rain will mix with the snow at times, especially during the afternoon hours and when light precipitation falls, but snow will be the primary problem.
Snow totals will vary greatly across the Istanbul area; however, the hardest hit areas could get total snowfall of 15-25 cm (6-10 inches) through Thursday. The period of heaviest snowfall is expected on Wednesday when low visibility and snow-covered roadways are expected.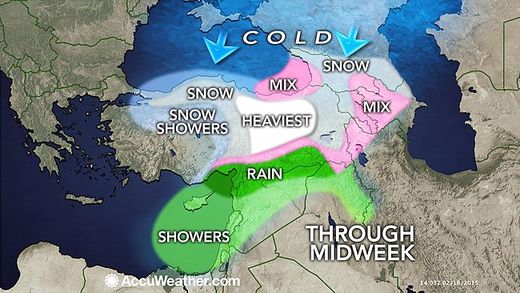 Snow began on Monday across many areas in central and eastern Turkey, but the heaviest snow will fall into Wednesday in areas such as Erzincan and Erzurum. Occasional snow may even continue to fall into Thursday in some places.
Snow accumulations of 13-25 cm (5-10 inches) are expected to be widespread in central Turkey with local amounts in excess of 30 cm (12 inches). In the highest terrain, total accumulations could near 60 cm (24 inches), which is great news for the many ski resorts scattered across the region, but bad news for travelers.