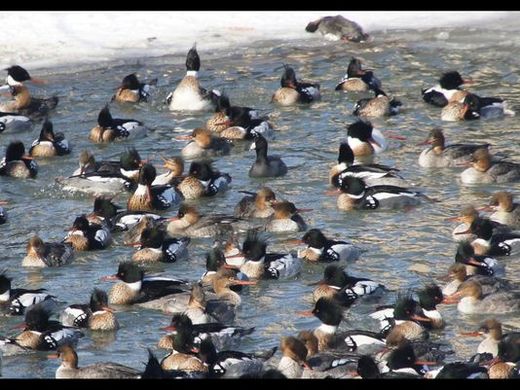 The Great Lakes are the winter home to millions of sea birds and waterfowl that need open water to survive. The frigid weather of the past few months left
92 percent of the lakes covered in ice
, and that left diver ducks out in the cold.
Jen Brumfield, a naturalist for the Cleveland Metroparks explains, "With the freeze-over, all of these birds are piling into very, very small, open-water outlets where they become stressed. There is limited food for them there, so they starve and die."
The death toll on Lake Erie could run in the tens of thousands.
As the frozen lake thaws, carcasses of the deceased ducks are washing up along the shore by the hundreds. The waterfowl are mostly diver ducks, like greater and lesser scaup, redheads, canvasbacks, and red-breasted mergansers.