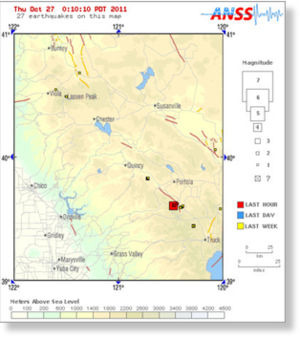 According to the
United States Geological Survey
, a 4.7 magnitude earthquake shook Sacramento late Wednesday night around 11:37 p.m. Did you feel it?
We sure did.
The quake could be felt as far away as Reno, Nevada, according to the USGS website.
The earthquake's epicenter is believed to have originated in Portola, California about 150 miles north east of Sacramento, though, according to the USGS, the official location has yet to be determined.
Fair Oaks Patch Facebook fans
were quick to respond to our status update.
"It woke me up," said Fair Oaks native and Ground Zero Board Shop owner Brendan Mohr. "Never felt one before that and lived here for 28 years."
"Yep felt it," said Fair Oaks Patch Facebook fan, Danielle Parker.
Information is still coming in. As more is gathered we'll be sure to update this story.