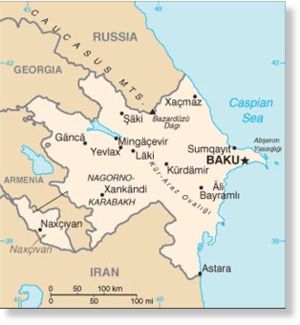 A moderate earthquake shook northwestern Azerbaijan on late Monday morning, injuring more than a dozen people and seriously damaging a number of houses, officials said. Shaking was also felt in neighboring Russia and Georgia.
The 5.5-magnitude earthquake at 9:40 a.m. local time (0440 GMT) was centered about 17.5 kilometers (10.8 miles) south of Zaqatala, the capital of Zaqatala Rayon along the Tala River. It struck about 10 kilometers (6.2 miles) deep, making it a shallow earthquake, according to the Republican Seismic Survey Center of the Azerbaijan National Academy of Sciences.
The United States Geological Survey (USGS), which measured the strength of the earthquake at 5.6 on the body wave magnitude (Mb) scale, estimated some 450,000 people near the epicenter may have felt moderate to strong shaking. Another 6.6 million people may have felt weak to light shaking.
Officials at the country's Ministry of Emergency Situations said around 20 residential buildings near the epicenter were 'seriously damaged' as a result of the earthquake, which also damaged a number of other buildings and partly destroyed the sports hall of a school. At least 15 people were believed to be injured, but none of them were serious or required hospitalization.
Residents on the other side of the border in Russia and Georgia also reported feeling the earthquake, but there were no reports of damage or casualties from those regions.
Azerbaijan sometimes experiences very small earthquakes, but they rarely exceed magnitude 5.0. Monday's earthquake was the strongest to hit the Asian country since at least late 2008. The deadliest earthquake to ever hit Azerbaijan happened in November 1667 when a powerful 6.9-magnitude earthquake struck near the city of Şamaxı, devastating entire districts and killing an estimated 80,000 people.