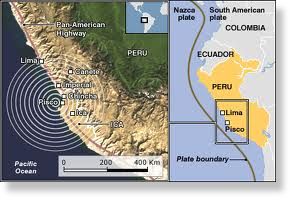 The Civil Defense in Peru (Indeci) intensified today a prevention drive warning of a potential massive earthquake now preceded of two daily tremors average. Indeci called on every workplace and home to ready an emergency evacuation plan after a median quake and two replicas were recorded Sunday in Ica (south) and in Lima.
Marco Tantalean, an expert from the institution, said planning must include safe routes and refuges, plus staples like your ID cards, drinkable water, first-aid material, flashlight, non perishable food and saving phone calls for emergencies to prevent the lines from collapsing.
Other prevention measures include
a May 31st tsunami simulation
, marking the 1970 massive quake that killed some 70,000 people in Ancash, north Peru. Scientific evidence have proven that after "long periods of rest" big quakes may occur, like those that have especially razed Lima through history; plus, Peru is located in a seismic area, adds Hernando Tavera, director of Seismology at the Institute of Geophysics, reminding of the 66 tremors of 2012 through April, near one daily.
The majority, 39, registered on the Pacific coast, again in Lima, Ica - devastated in 2007- and Arequipa, together occupy more than 1,000km.