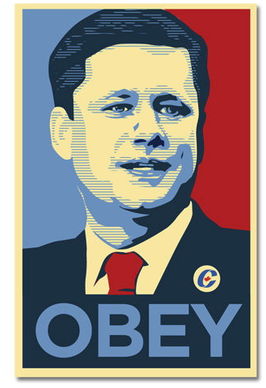 It seems irrefutable to me after 20 years of analyzing the career of Stephen Harper that he is incapable of providing democratic governance. Harper arguably shows some traits of what psychologists refer to as malignant narcissism, a dangerously heightened sense of self importance. Otto Kernberg, a leader in the study of personality disorders, describes malignant narcissism as "extreme self-absorption and insensitivity that often result in a trail of victims -- emotional wreckage left in the narcissist's wake." The victims Kernberg refers to are, of course, individuals, but in our case the principal victim is the Canadian nation -- its humanist accomplishments, its art and culture, the foundation of its science, its international standing and its democratic governance.

Murray Dobbin, Sept 10th 2009, The Tyee
Canada is in the the middle of another federal election, and this time there is a good chance that Stephen Harper's Conservative Party will win a majority government. This is very bad news for the Canadian people and the country as a whole.
From his
beginnings
as Chief Policy Officer of the western protest Reform Party and President of the ultra right-wing National Citizens Coalition, Stephen Harper has always espoused staunchly conservative views that mirror those of his ideological heroes in the U.S. A closet fundamentalist
zealot
, he has been consistently supportive of stronger government control and tax cuts for big corporations. He's anti-union, anti-immigration, pro-privatization of health care, pro-military, tough on crime, in favour of building more prisons, cutting funding for the arts, social services and education, an advocate for free trade and establishing closer political, economic and military ties with the United States.
Canada is on the verge of losing its national sovereignty and being ruled by a dictator with a hidden agenda and an iron fist. Yet a large segment of the Canadian public seems dimly aware of the many possible negative consequences as they continue to be in thrall to this proverbial
wolf in sheep's clothing
.