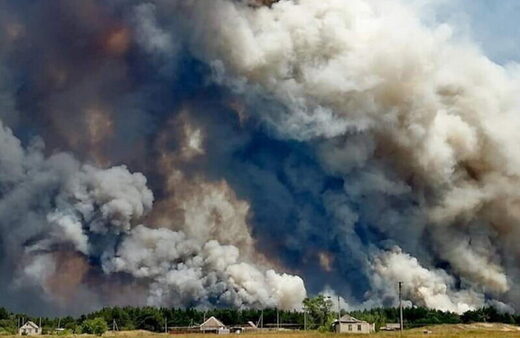 Forest fires have killed 5 people and destroyed over 100 houses in Luhansk Oblast, some 20 kilometers north of the front line of Russia's war against Ukraine.
The fire started around noon on July 6, quickly taking up over 50 hectares of the forest. By the morning of July 7, firefighters contained the fire to some 85 hectares. But due to hot weather and high winds, it has spread to the north and hit a village of
Smolyanynove
later that day.
As of the afternoon of June 8, the wildfires have destroyed 23 residential houses in Smolyanynove and 80 cottage houses in the Vovche Ozero housing community there, according to the State Emergency Service. Another 36 residential houses were damaged in Smolyanynove.
Currently, 25 people, including 16 children, are in the district hospital. Another seven are in the hospital in the nearby city of Severodonetsk, according to Pavlo Lysianskyi, representative of the Ukrainian Parliament Commissioner for Human Rights in Luhansk and Donetsk oblasts.
Rescuers have evacuated 30 people, including 13 children, from Smolyanynove, and resettled another 30, according to the State Emergency Service.