Earth Changes
---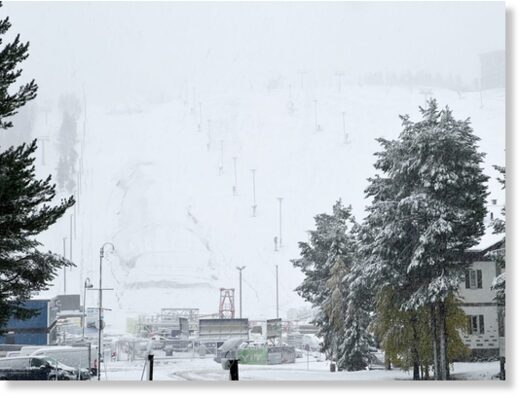 There's fresh snowfall in Finland's northern Lapland region
a fortnight before ski areas are due to start opening for their 23-24 ski season.
The country's largest resort, Levi, posted pictures of snowfall down to resort level on Wednesday 20th September.
It is still summertime, until Saturday, according to the astronomical measure of the seasons.
Levi and fellow Finnish resort Ruka are due to start their 7 month long 23-24 seasons in just a fortnight's time, on 6th October.
---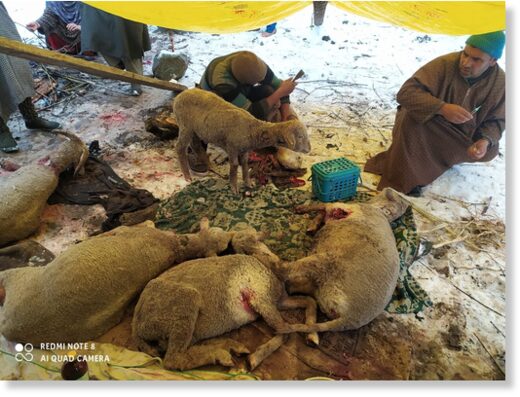 At least 80 sheep and goats died after lightning struck in a hilly area of Ramban district of Jammu and Kashmir on the intervening night of Monday and Tuesday.
Local sources said that the lightning struck at Hinjhal top meadow of Banihal in Ramban killing at least 80 sheep and goats.
The owner of the animals claimed that dozens of sheep and goats were still missing.
Official sources however said that the carcasses of only 40 animals have been recovered so far.
They said that teams from the police and sheep husbandry department are in the area to take stock of the situation.
---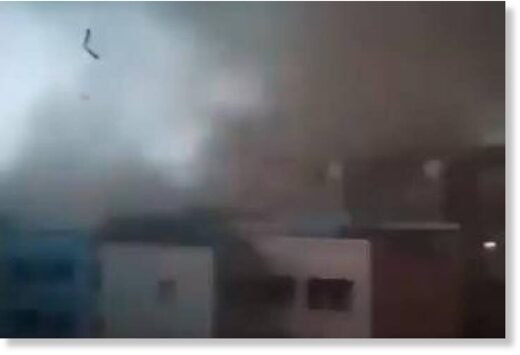 On the afternoon of the 19th, a tornado disaster occurred in Nancai Township, Suqian Economic Development Zone, Jiangsu Province. The disaster has resulted in one death, three injuries, and 52 houses suffering varying degrees of damage.
At present, all the injured have been sent to the hospital for treatment, and their lives are not in danger.
The wind disaster occurred on South Street in Nancai Township, Suqian Economic Development Zone.
According to local residents, at about 17:00 that day, it was raining, and suddenly a strong wind hit, causing chaos wherever the strong wind struck.
---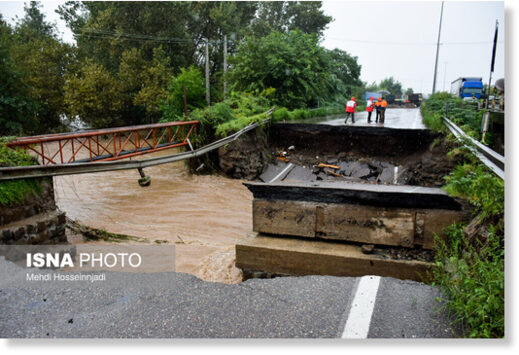 The flooding blocked roads between Astara and Talesh and destroyed a number of buildings while many houses are under water now.
Astara's bazaar was also inundated by the flood, leading to the closure of the center.
Meanwhile, two people sustained injuries after their car fell into the river due to the collapse of Astara's Sibly Bridge. Seven others were injured elsewhere in the city.
There are reports of 265 millimeters of rain in 12 hours in the city.
---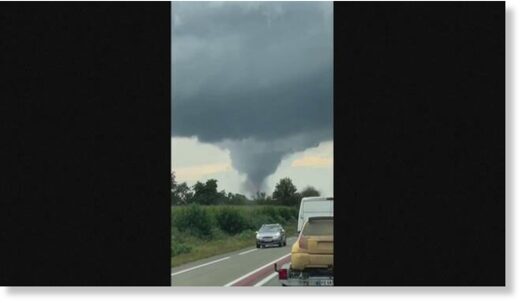 Drivers on a highway in Ernee, France, drove white-knuckled after they looked beyond the trees to see an apparent tornado whirling near the highway a little after 5:30 in the evening on Sunday.
Only a few dozen tornadoes form in the entire country every year, according to
Meteo-France
. So, drivers were understandably shocked by the rare event. Most of the tornadoes are small, brief and low-intensity in France.
The tornado tore through several cattle barns and sheds in northwest France. Some social media posts show pictures of barns without roofs and others collapsed. One post reported several injured livestock.
Wind and trees tore down power lines. Flashing emergency lights surrounded the damaged and destroyed buildings. Fire officials report that no people were injured, but rescue crews were on the scene.
---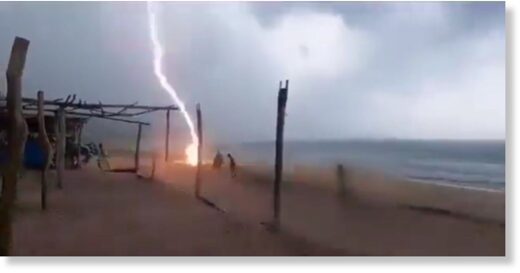 Some harrowing video footage has captured the moment when lightning struck two people on a beach in Michoacan, Mexico, surprising bathers who were enjoying a day by the sea.
The dangerous situation saw people trying to flee the beach as quickly as possible, after noticing the change in weather conditions as a storm arrived.
Rushing to gather their belongings to leave the beach, two people were caught out by lightning, which electrocuted them.
---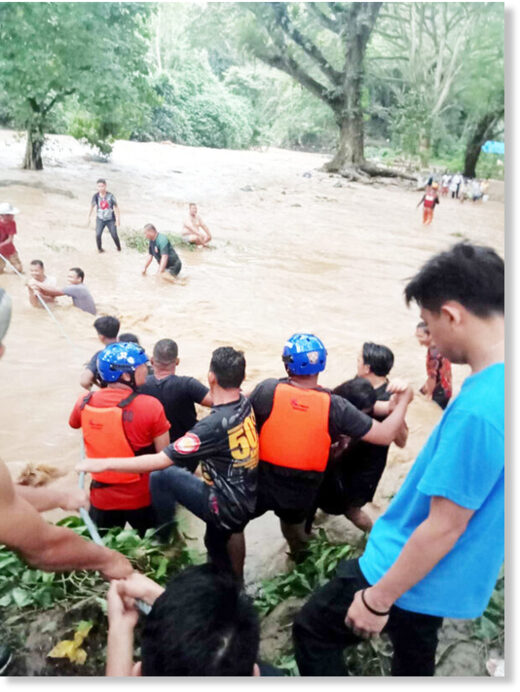 More than 2,000 persons fled flash flood spawned by heavy rains in mountainous areas here on Sunday, September 17.
The City Disaster Risk Reduction Management Office (CDRRMO) and Bureau of Fire Protection (BFP) rescued a group of persons trapped in areas separated by the Canucutan River in Barangay Pasonanca.
Flash flood was reported after heavy rains in the mountains resulted in rivers in the lower areas populated by most residents to swell and overflow.
---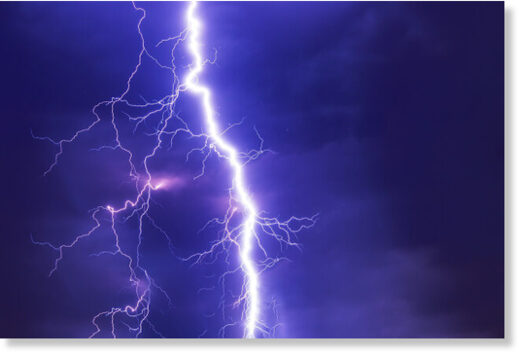 At least ten persons were killed in lightning-related strikes reported from Aurangabad, Gaya, Kaimur, Rohtas and West Champaran districts of Bihar on Sunday evening, officials said.
Six persons were killed in Aurangabad while one person died in each of the other four districts namely Kaimur, Rohtas, Gaya and West Champaran.
In Gaya,one person was killed while grazing buffaloes at Pratappur village.
In Rohtas,another person who was in his farm was killed while one person died near Bettiah, officials said.
---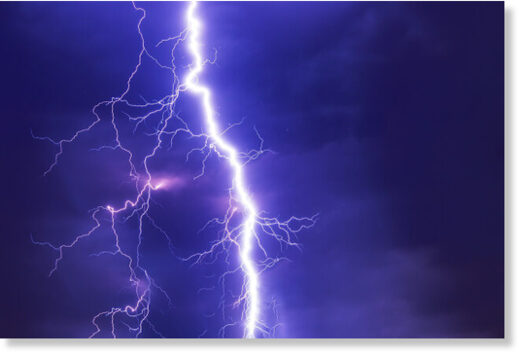 In a tragic incident, three persons, including two minor boys, were killed on Sunday afternoon after a lightning struck them when they were watching a football match in an open area in Birual village under Brahmani Tarang police limits here.
The deceased were Bisal Bilung (16), a native of Kerlakhaman, Sunit Oram (17) from Nalaghati village, and Santi Prakash Lakra (30) from Gopadih Kendutola.
---