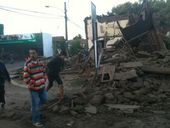 Chileans have spent a night camped outside, fearful of aftershocks as rescuers battle to find survivors of a huge earthquake that shattered roads and airports and triggered a tsunami across the Pacific.
A powerful new 6.1 magnitude aftershock struck just off the coast early on Sunday morning (local time) reinforcing those fears, rattling cities already devastated by Saturday's deadly quake.
The 8.8 magnitude quake, one of the world's most powerful in a century, hammered Chile, killing more than 300 people as it toppled buildings and mangled highways.
The clock is ticking on the search for survivors, with about 100 people feared trapped in just one collapsed apartment block in the city of Concepcion.