Earth Changes

Comment: The photogallery provides some quite impressive contrasts and, at the very least, makes a stark visual statement about our changing climate.


---
Chrysler's chief economist Van Jolissaint has launched a fierce attack on "quasi-hysterical Europeans" and their "Chicken Little" attitudes to global warming.

His attack is in sharp contrast to the green image that the US car companies have been trying to promote at this year's Detroit Motor Show.

Mr Jolissaint was speaking at a private breakfast where the chief economists of the "Big Three" US car firms presented their forecasts for auto industry sales this year.

Most of the audience - which was mainly made up of parts suppliers - seemed to nod in agreement with Mr Jolissaint.

Neither Ford's chief economist Ellen Hughes-Cromwick, nor General Motors' chief economist Mustafa Mohatarem, who were on the panel with Mr Jolissaint, questioned his assertion.
Comment:
A large car corporation that has a lot to gain from the continued sale of large cars claims that global warming does not exist. A less objective source would be hard to find. Read Laura's recent editorial
"Fire and Ice - The Day After Tomorrow"
for the real deal.
---
ST. PETERSBURG, Russia - Winters in Russia are always tough, but rarely like this - so warm that bears aren't hibernating and so gray that humans are having trouble waking up.

Much of the European part of Russia has been gripped by an uncharacteristic warm spell this winter, with temperatures generally well above freezing and little if any snow.
---
ITN
Wed, 17 Jan 2007 12:49 UTC
Severe storms with winds up to 80mph are threatening to batter parts of England, Northern Ireland and Wales for several days.

Gusts could hit 80mph in some exposed hill and coastal areas of the country and 60-70mph elsewhere, while high rainfall will put some places at renewed risk of flooding.

The storms will be followed next week by plunging temperatures, snow and widespread frosts across the country.
---
AFP
Wed, 17 Jan 2007 12:07 UTC
Harsh winter weather has swept across much of the United States, leaving scores of people dead, hundreds of thousands without electricity and threatening to decimate California's citrus crops.

At least 50 people have died in storm-related accidents since Friday, the majority in car accidents on icy roads, major US news media reported Wednesday.
---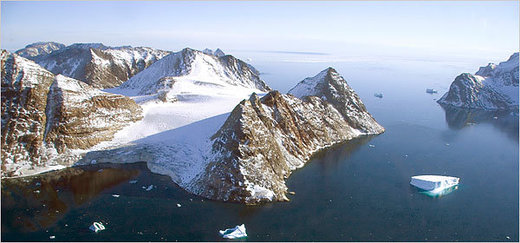 Flying over snow-capped peaks and into a thick fog, the helicopter set down on a barren strip of rocks between two glaciers. A dozen bags of supplies, a rifle and a can of cooking gas were tossed out onto the cold ground. Then, with engines whining, the helicopter lifted off, snow and fog swirling in the rotor wash.
When it had disappeared over the horizon, no sound remained but the howling of the Arctic wind.
"It feels a little like the days of the old explorers, doesn't it?" Dennis Schmitt said.
Mr. Schmitt, a 60-year-old explorer from Berkeley, Calif., had just landed on a newly revealed island 400 miles north of the Arctic Circle in eastern Greenland. It was a moment of triumph: he had discovered the island on an ocean voyage in September 2005. Now, a year later, he and a small expedition team had returned to spend a week climbing peaks, crossing treacherous glaciers and documenting animal and plant life.
Despite its remote location, the island would almost certainly have been discovered, named and mapped almost a century ago when explorers like Jean-Baptiste Charcot and Philippe, Duke of Orléans, charted these coastlines. It would have been discovered had it not been bound to the coast by glacial ice.
---
We should heed the lessons, experts warn, of a little-known environmental disaster that took place two centuries ago

It sounds like the plot of a blockbuster film, but according to scientists, tens of thousands of people in this country face the threat of being poisoned by lethal gas - from volcanoes 600 miles away in Iceland.

Research by a British academic has demonstrated how a volcanic gas cloud emanating from an Icelandic volcano killed 30,000 Britons in a hitherto little-studied environmental disaster two centuries ago.

"People died in such vast numbers because the volcanic cloud exacerbated their respiratory illnesses," said Dr John Grattan, a senior lecturer at the University of Wales, Aberystwyth, who has been studying the impact on Britain of the eruption of Iceland's Laki volcano in 1783.
---
JAKARTA, Indonesia - A moderate earthquake rocked parts of Indonesia's Papua province on Wednesday but there were no reports of any damage.

The 5.9 magnitude quake hit 80 miles southwest of Jayapura, the provincial capital, the U.S. Geological Survey said on its Web site.

Indonesia, the world's largest archipelago, is prone to seismic upheaval due to its location on the so-called Pacific "Ring of Fire," an arc of volcanos and fault lines encircling the Pacific Basin [which includes the Western coast of America]
---
MELBOURNE, Australia - Wildfires tore through southern Australia late Tuesday, destroying eight houses and leaving hundreds of thousands of people without electricity, an official said.

One home was destroyed in a fire caused by a lightning strike west of Melbourne. Seven others were razed in a blaze that blackened nearly 67,000 acres in northeast Victoria state, said Pat Groenhout, a state emergency spokesman. There were no immediate reports of injuries.

Lightning strikes started several other blazes late Tuesday, and were expected to spark other fires amid soaring temperatures, Groenhout said.
---
BUFFALO, Mo. - Shoppers were reduced to picking up supplies by flashlight Tuesday in the few places open in this town of 2,800, as the death toll from a winter storm grew to 51 in nine states.
Three shelters in Buffalo - about 35 miles north of Springfield in hard-hit Missouri - housed nearly a tenth of its population Monday night, and officials said power might not be restored until next week.
The town lost all its power by Saturday. Water towers ran dry Sunday, and water service was restored only late Monday, after the National Guard hooked a generator up to a pumping station.
"There are no services," Buffalo Mayor Jerry Hardesty said. "I've talked to residents who have lived here 50 years, and
nobody can remember it ever being this bad."
---