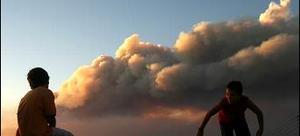 ©AP Photo/Petros Giannakouris
Children play in an Athens park in front of smoke from a forest fire in Dervenohoria, north-west of the capital
ATHENS, Greece - Wildfires swept through Greece on Thursday, killing two people and destroying homes after days of record temperatures of more than 100 degrees that led to at least nine heatstroke deaths and extensive power cuts.
Authorities evacuated a mountain hotel and casino complex, an air force radar station and a children's camp on the outskirts of Athens as a huge forest fire raged out of control through the Mount Parnitha national park.
An air force spokesman said radar personnel were being evacuated by helicopter. "We decided this as a precaution," Christos Vaitsis told The Associated Press. "The fire is moving toward the unit."
Temperatures had cooled slightly but were still above 100 degrees in most parts of the country Thursday, with a high of nearly 106 in Athens. On Tuesday, the temperature hit 115 degrees, the highest for a day in June since 1889, according to government officials.
The two men who died were trapped by flames after abandoning their truck in a forest fire outside the central city of Larissa, fire officials said. A third man in the truck escaped unharmed.
Besides the Greece heatstroke victims _ which included a 103-year-old man _ dozens more have died in southeast Europe over the past week because of the heat. Greek Health Ministry officials said more than 140 people were hospitalized with heatstroke in the past 24 hours.
Clouds of smoke cast a pall over Athens and police sealed off a road 10 miles northwest of the capital. The country's main north-south highway was also closed briefly near Tanagra, 35 miles north of Athens, after billowing smoke reduced visibility.
Smoke also reduced visibility to zero and grounded firefighting planes, Public Order Minister Vyron Polydoras said. "We will fight all night," he said.
In other areas, 24 water-dropping planes and 13 helicopters were assisting hundreds of firefighters on the ground, officials said.
Italy's civil protection agency said it had sent two extra aircraft to help the effort, while France and Portugal were also contributing planes.
More than 130 wildfires swept through thousands of acres of forest and brush across Greece, several for the second day. Officials said arson was to blame for at least one fire near Athens.
Interior Minister Procopis Pavlopoulos said firefighters were involved in a "titanic" effort. "We are facing an unprecedented situation," he said.
On the resort island of Poros, firefighters were battling a blaze that destroyed at least 10 homes and forced the evacuation of dozens of houses and three hotels.
Another major fire was burning on Mount Pelion in central Greece, where three homes were destroyed and dozens evacuated.