A lamb with seven legs was born in New Zealand but so badly deformed that it was to be destroyed, a local newspaper reported.
The lamb was born with an extra set of front legs and three back legs, the Ashburton Guardian newspaper, at Ashburton on the South Island, reported.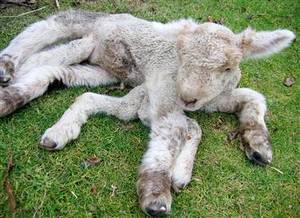 ©Susan Sandys/AP
The seven-legged lamb rests on its farm at Methven near Christchurch on the South Island of New Zealand on Tuesday.